In times of mourning, there are few things to ease the loss of losing a loved one. Let the gift you send express your sympathy to the family in a comforting and compassionate way.
Sending flowers in memory of the deceased to the funeral home is a thoughtful way to demonstrate your bereavement and support of the family. Choose to send a standing floral spray to be displayed near the casket, or a tasteful funeral bouquet or plant to be placed at the foot of the altar.
Conveying your sorrow can also be expressed by sending a condolence gift to the family's home. A traditional idea is to send a comforting gourmet or sympathy basket. A planter basket is often sent as a gesture of sympathy and can serve as a lasting memory sent in honor of the deceased.
Sending flowers for sympathy is not limited to just friends and family of the deceased - co workers and business acquaintances may want to express their support for the family as well. Choosing the appropriate gift will show your support in a subtle and warmhearted way. A bouquet in muted and pastel shades may be best for a female co-worker, while a bouquet in bright yet subdued colors are best for a male co-worker suffering a loss.
Funeral & Sympathy Etiquette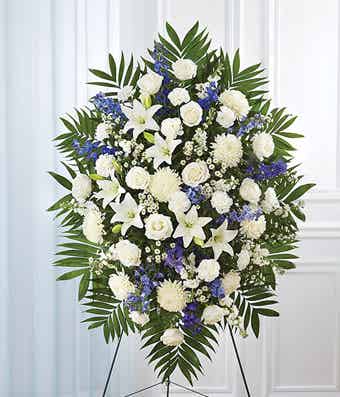 Sympathy flowers have long been considered the traditional way to express your condolences in times of mourning. Both comforting and beautiful, flowers serve as a beacon of hope, reminding us of the spirit of life. The bouquet you choose to send should eloquently convey your message of sympathy, taking into consideration how well you knew the deceased or how acquainted you are with the family, while still respecting the personal or religious beliefs of the family.
We have prepared some helpful guidelines in response to the most frequently asked questions related to sending flowers for sympathy or to a funeral.
It is never too late to send an arrangement to express your sympathy. If you just heard the news, and the funeral services have already taken place, it is still acceptable to send a flower arrangement to the home of a surviving family member.
You don't need to know everything about flowers to know what kind of sympathy flower arrangement you should send; all flowers are appropriate for sympathy when tastefully arranged. Typically, flowers with a larger or more dramatic appearance would be used for striking, more majestic bouquets such as standing sprays or casket covers. Flowers with compact, more delicate features are used to create designs on a smaller scale that can be displayed near the base of the casket or on the sides of the altar. These modest bouquets are also more suitable to be sent to the family's home.
You can choose to customize your arrangement by including flowers with symbolic or specific intent. Browse our selection on the meaning of flowers to choose the bouquet that will best represent your sentiment.
While many choose to send subdued and solemn arrangements, it is also befitting to send a flower arrangement that celebrates the joy and happiness the deceased brought to their life, and the lives of those around them. Vibrant and colorful arrangements in shades of bright pink, yellow, or red can serve as a joyful remembrance and a sign of renewal and hope.
In addition to flowers, plants are appropriate gifts to send as a gesture of condolence. Green, blooming (or combinations of both) plants are a lasting tribute to the memory of the deceased.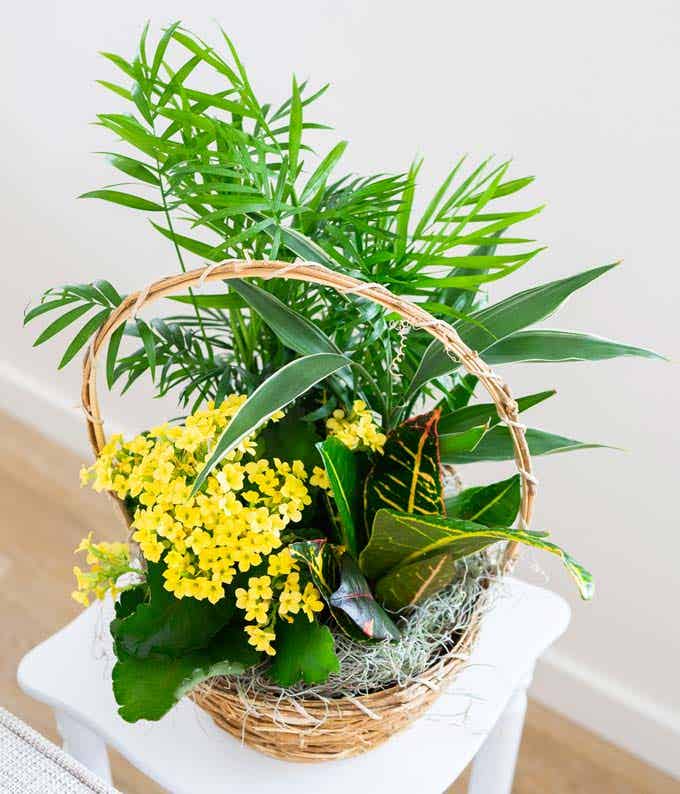 The enclosure card sent with the sympathy flowers or plant can often be difficult to word.
Typically, the card would include just a short sentence such as "our thoughts and prayers are with you", or "with deepest sympathy". Be sure to include the first and last name of each person associated with the gift that is sent, this will help avoid confusion for the family when they recognize those that sent an arrangement. When sending a gift from a group of people, specifically an office, be sure to include the name of the business, and the individual names that contributed to the gift.
Some funeral services may last for several days. For multiple day services, choose to send a bouquet that has a constant source of water to keep the flowers hydrated. Opt for a beautiful bouquet in a basket or a container with floral foam as opposed to a standing spray or funeral cross, where the flowers do not have direct access to water.
Flowers sent for the death of a child or an infant are usually a smaller size than regular funeral flower arrangements. The color scheme may be soft pastels or bright sunny colors. Funeral arrangements appropriate for a child's death include arrangements in a vase, standing sprays, wreaths, and crosses.