For many people, the majority of their days are spent at work. It is only natural that you will be privy to and maybe even part of, milestones celebrated by your co-workers, employees, or even your boss. Although not mandatory, you may want to send a special gift to someone in your office to commemorate a special occasion, or just to let them know you are thinking of them. Knowing what to send, and to whom and when, can help take the stress out of sending a business gift.
Gifts to Team Members:
Companies often provide standard gifts for their employees for major holidays or even Administrative Professionals day, but sometimes you just want to recognize a job well done or a new promotion. A handwritten note with a personalized message can do just the trick! Simple and cost efficient, it is sure to brighten their day and make them feel appreciated. Another cost efficient way to recognize an employee is to buy them lunch; you don't have to take them to a fancy restaurant, even ordering take-out from a local deli is a generous gesture. If you know the employee's personal tastes and interests, try to give a gift that shows this: a bottle of their favorite red wine, the newest best seller, or a basket of pears - all are easy to find and purchase, but will show you put sincere thought behind the gift.
Another great way to acknowledge an employee is to send flowers. However, when sending a bouquet to an employee, don't choose flowers that could be construed as too personal or romantic. While sending a dozen roses may be thoughtful, it can tend to send the wrong message to the employee, or their co-workers! Instead, choose a bouquet of seasonal flowers in bright and cheery colors - and remember to stay away from anything too fragrant, some employees may be allergic to overtly scented flowers. Or, send a plant which will provide a lasting reminder of a job well done.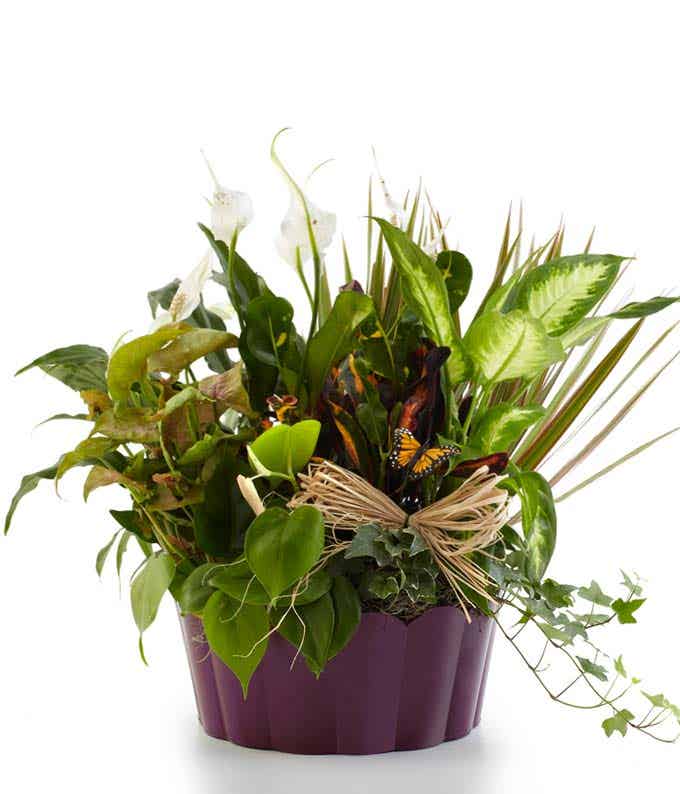 Gifts to the Boss:
While you may often want to give a gift to your boss for a special event like birthday, anniversary, or even Boss's Day, it is best not to give a gift that comes only from you. Other employees may view this act as a way of gaining favor - and it may be perceived by your boss as such as well. It is best to give a gift from a group, or just send a simple yet thoughtful card.
Gifts to a Business Associate or Client: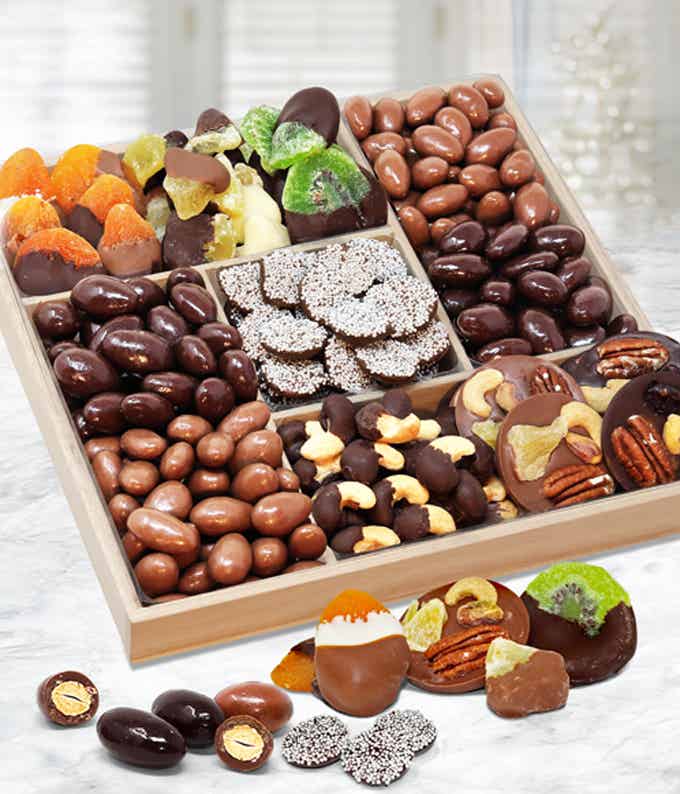 There are many reasons you may want to send a business gift to an associate or client - thanking them for choosing your proposal, for referring a client, or congratulating them on a business expansion. As is often the case in sending a business gift, you want to choose a gift that won't be too personal or send the wrong message. When sending to a group, a great gift idea is to send something that everyone can enjoy, such as a gourmet basket filled with cheese, crackers, meats and chocolates. baskets.
If you are sending to an individual, it is acceptable to send a gift that accents their personal taste: if you know the recipient loves fruit, send a basket of assorted fresh apples, bananas, and other seasonal fruit. It is also acceptable to send flowers, although you want to be sure the gift doesn't include a specific type of flowers, such as roses, that may convey a particular meaning. A more practical choice may be to send a plant - it tends to last longer, is easy to care for, and is perceived as a more generic gift, but still conveys a genuine message of thanks.
Gifts to Co-workers:
Choosing the right plant gift for a coworker can seem daunting, but with a little thought and consideration, you can find the perfect plant that matches their personality and lifestyle.
When choosing a plant for a coworker it's important to think about their personal style and preferences. Do they prefer bold stunning blooms like Orchids? Or versatile leafy plants like Peace Lilies? By choosing a plant that matches their personal style and preferences, you'll be showing them that you truly care and appreciate them.
Maternity:
Although it may seem obvious, you want to make sure that the co-worker is definitely pregnant. If you are not completely sure that your co-worker is expecting a new addition, it is best to leave any congratulatory remarks unsaid. More than one office relationship has been ruined by a well-wisher speaking out of turn! Co-workers should also refrain about making any comments about eating habits, her weight gain, or appearance.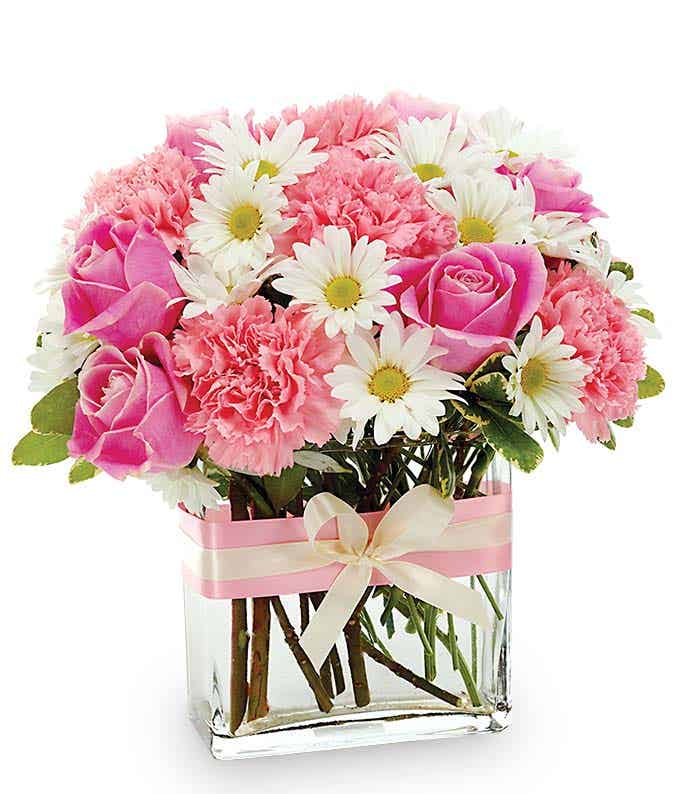 The opportunity to attend a baby shower either at work or at an offsite location may arise, and if you attend, you are obligated to bring a gift. Many times the invitation will include where the mother-to-be is registered, but if you are unsure as to what to give, standard gifts such as baby clothing and accessories, stuffed animals, or keepsake items like a picture frame or baby book are all acceptable gifts. Another popular and trendy idea is to send a diaper cake. A diaper cake is a collection of diapers rolled and stacked together to resemble a traditional tiered cake; the tiers of the cake are then garnished with baby items like socks, bibs, bottles, toys, etc.
Upon the birth of the baby, consider sending a handwritten card along with food or flowers to the new mom at home. Remember, flowers or balloons to the hospital are nice, but it can be overwhelming to a new mother; sending a gift to celebrate the newborn to her home may be best.
Sympathy at Work:
When a co-worker loses a loved one, you want to express your condolences right away. If you are close to the person, consider attending the funeral services as a gesture of support and respect. If you are unable to attend the services, sending sympathy flowers or a plant to the services is a kind way to express your sympathy. You may also want to check with other co-workers, as they might want to make contribution towards sending an arrangement to the services or to the family's home.
As the co-worker may need to miss time from work due to the death of a family member or close friend, you can offer to take on some of their work responsibility to ease the burden until they return. Offer to check their email or voicemail, or to complete a project that they might have been working on. You can also ask other co-workers to set up a schedule of delivering meals to the person's home for a week. This will give them one less thing to worry about while they handle the memorial and funeral services, deal with probate court and the reading of the will, etc. If you are unable to organize a week's worth of dinners, ask other employees to chip in money towards a gift basket that can be delivered to the family's home.
Get Well:
No one likes to be sick at work and missing time from work can be a burden to many. When a co-worker is ill and will need to be out of work to recuperate, consider bringing DVD's, crossword puzzles, or magazines to their home. It will be a well received gesture, and can definitely help to make the "sick" days fly by. You may also want to send a type of "pick-me-up" like a bright and cheery floral arrangement or a flowering plant. You can also send a get well card from you, or a group of people at work. While simple gestures from you can't make them physically better, it will help to let them know you are thinking of them and brighten their day!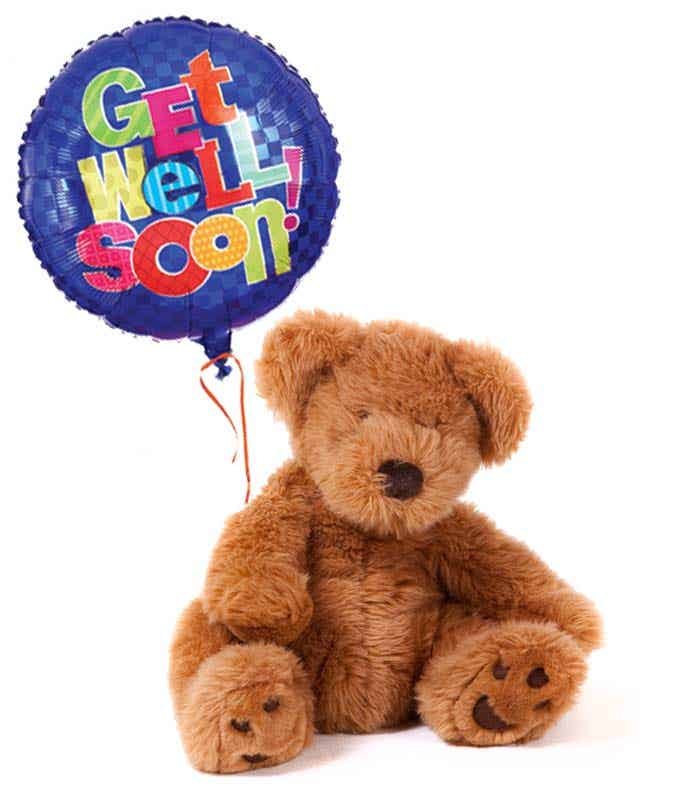 If your co-worker is going to be out of work for several days, offer to help with the work they will miss while they are out of the office: offer to follow up with a client, check their voicemail, or work on any issues that may arise in their absence. It is always hard to miss work but helping to ease their workload will help to make their time out of the office, and their return back, more manageable.
Birthday:
Not all people like to celebrate their birthday, especially as one gets older. However, it's always nice to recognize a colleague's special day, especially if it is a milestone birthday like 30, 40, 50 or 60. A handwritten birthday card or an e-card is a thoughtful and considerate way to wish them a happy day. If you'd like to present the colleague with a gift, be sure to err on the less personal side. Picture frames, books, wall calendars or a pen and pencil set are all useful gifts and a kind way to demonstrate your birthday wishes. If your gift of choice to send is a birthday floral arrangement, be sure to avoid any romantic overtones, and choose an arrangement that is not overly fragrant and is a suitable size for their desk. You wouldn't want to send a tall, overflowing arrangement to an administrative assistant that has a small desk with limited free space.
While it is always acceptable for a supervisor to give a gift to an employee, an employee giving a gift to a boss could be seen as self-promoting. Consider giving a generic card, or contribute with other employees to give a gift as a group.
For the birthday of a client, recognizing their birthday can go a long way to strengthening your business relationship. For a business associate that you have a long standing relationship with, consider sending chocolates and flowers, a gourmet gift basket, or tickets to an event. Be sure to check that the company does not have a policy against employees receiving gifts.
Find business flowers and business gifts at FromYouFlowers.com.