Christmas Wreath Meaning
Every year in December, approximately two billion people around the world celebrate Christmas. During this time we recall symbols of ornaments, snowmen, trees, and wreaths. To learn about the meaning of Christmas wreaths, as well as their origin, how to decorate with them, and five Christmas wreaths for purchase, please keep on reading the blog.
Christmas Wreath Origin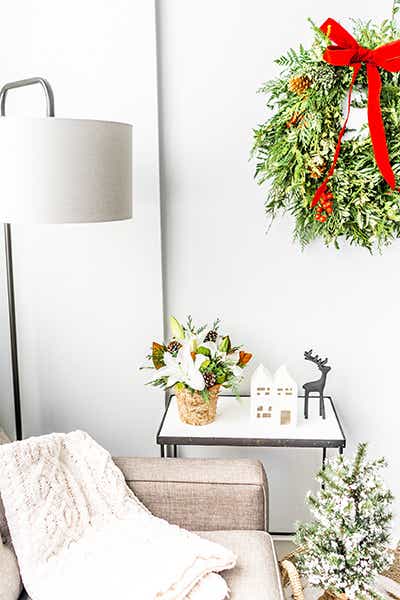 Using Christmas wreaths as decorative purposes have been a tradition held for centuries. While the wreaths of today can be made from a number of natural and artificial materials, they used to only be created with fresh evergreens. Not coincidentally, evergreens are green in color throughout the entire year, making them the perfect choice. The word itself, wreath, comes from an English word that meant to twist, as in into a circle, which is the shape of wreaths.
For Christians, Christmas wreaths were placed in and around the home to symbolize Christ. The circle was representative of never ending life or eternity, given the shape that didn't not have neither a beginning nor an end. Origins hold that Christmas wreaths would have four candles, three on the exterior and one in the center. The middle candle would be lit on Christmas Eve to represent the arrival of Jesus Christ. In the early nineteenth century, evergreens were arranged in crosses or wreaths and placed on graves in honor of the deceased. These were also taken home to be used as decoration within the home.
Aside from being used as decorations, wreaths were, and still are used as gifts for loved ones. They are a lovely and festive way to to show off the colors of the season. There are several designs and styles of wreaths to choose from. The classic style wreaths contain evergreens with large red velvet bows. Other styles are more extravagant and include berries, flowers, and ornaments. No matter which wreath design is chosen, they will all bring a smile to your recipient's face and provide beautiful décor to any home for the holidays.
How To Decorate With Wreaths
When it comes to decorating with wreaths, it is hard to go wrong. Traditionally, they are placed on the doors when entering homes. Wreaths can also be placed on doors inside the home, such as one leading into the dining room or living room. Wreaths can also be placed within windows or above a fireplace. Wreaths can also be arranged to be used as beautiful table displays. These also come in either classical or more fanciful designs, as well as other features, such as candles to be lit during Christmas dinner.
Cheap Christmas Wreaths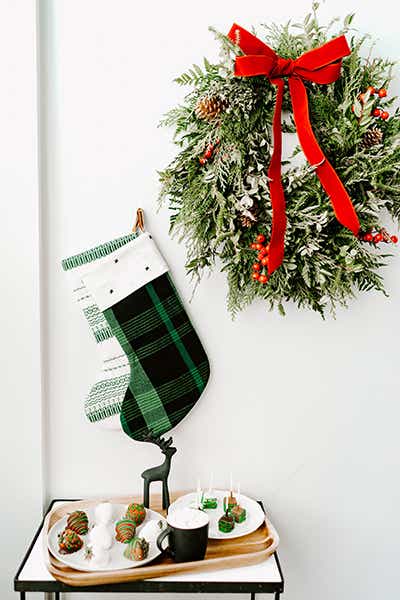 Deliver the beauty of fresh evergreens inside the home this holiday season. Fresh greens are skillfully hand-arranged and decorated with pine cones and red berries. In the middle, a local florist places a red pillar candle. This festive wreath would be a lovely centerpiece on any table for Christmas dinner.
Bring the beauty and spirit of the holidays into the home. White Asiatic lilies beautifully combine beautifully with red carnations and roses, which are accented with red hypericum berries and pine cones. The base of the centerpiece consists of hand-arranged lush greens that are placed in a bowl container, with two red candles in the middle. Adorned with green and red plaid ribbon, this centerpiece is guaranteed to leave a lasting impression.
Welcome in the Christmas season with a wreath. Fresh holiday evergreens are hand-arranged into a circular shape and accented with decorative red berries and pine cones. Adorned with a large red ribbon, this wreath makes for a truly festive addition to any front door. This classic arrangement will bring a smile to everyone's face who sees it.
White cushion poms and Asiatic lilies as well as red roses and carnations are all mixed together amongst cedar and noble firs. This arrangement is skillfully put together by hand and includes accents of pine cones, red hypericum berries, and plaid ribbons. Two red tapered candles are placed in the middle to add elegance to a beautiful floral centerpiece. Placing this rustic-inspired centerpiece on a table would add festive loveliness to any dining or kitchen table for Christmas Eve or day. *Please note that red carnations are only included in the regular size bouquet and red roses are only included in the deluxe and premium sized bouquets.
Don't know where to start? Take a look at some of our best selling products below: