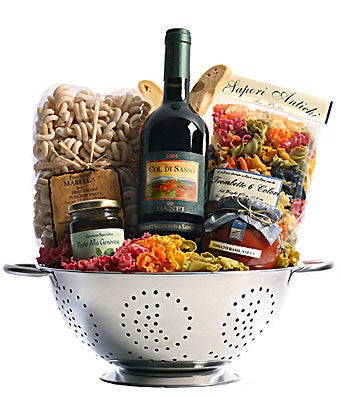 Item Description
Nestled in a five-quart stainless steel colander is everything you need to cook authentic, savory
Italian pasta dinners. Two types of pasta, Trombette and Trottoloni, pair well with both of these classic sauces - sugo di pomodoro and pesto alla Genovese. Enjoy your pasta with the bottle of Banfi Col di Sasso, a hearty Tuscan blend of Sangiovese and Cabernet Sauvignon. For dessert, an all natural, twice baked almond anise biscotti completes the meal. La dolce vita!
Includes:
• Col di Sasso Banfi Cabernet Sauvignon & Sangiovese
• 5 qt stainless steel colander
• Trombette 6 Colori pasta
• Trottoloni Pugliese pasta
• Imported tomato sauce
• Pesto alla Genovese
• Biscotti di Suzy Almond Anise Biscotti
• Gift dimensions: 15" x 12" x 8"
Due to interstate restrictions on the shipment of wine, this product can be shipped to the following states only: AL, AK, AZ, AR, CA, CO, CT, DE, FL, HI, ID, IL, KS, LA, MD, MA, MI, MN, MO, NE, NV, NH, NJ, NM, NY, NC, ND, OH, OR, PA, RI, SC, TN, TX, VT, VA, WA, DC, WV, WI, WY