There is nothing more symbolic of love and passion than red roses. That could be why they are a must for those looking for the perfect Valentine's Day gift. Valentine's roses can be much more than just a single bouquet of a dozen beautiful roses, though. There are many exceptional ways to make them special and unique, and even just one component of an impressive gift. As you think about all of the things you love about that special someone in your life, take a look at a few of our recommended Valentine's Day roses.
The Classic – One Dozen Long Stemmed Roses
Perhaps the most impressive option is the One Dozen Long Stemmed Roses. Classic and beautiful, these flowers could be what's expected. Red roses symbolize passion and love, and that's why they are the most common option available today. Without a doubt, investing in these, with baby breath within the bouquet, makes for a stunning gift.
The Vibrance of the Valentine's Romance Bouquet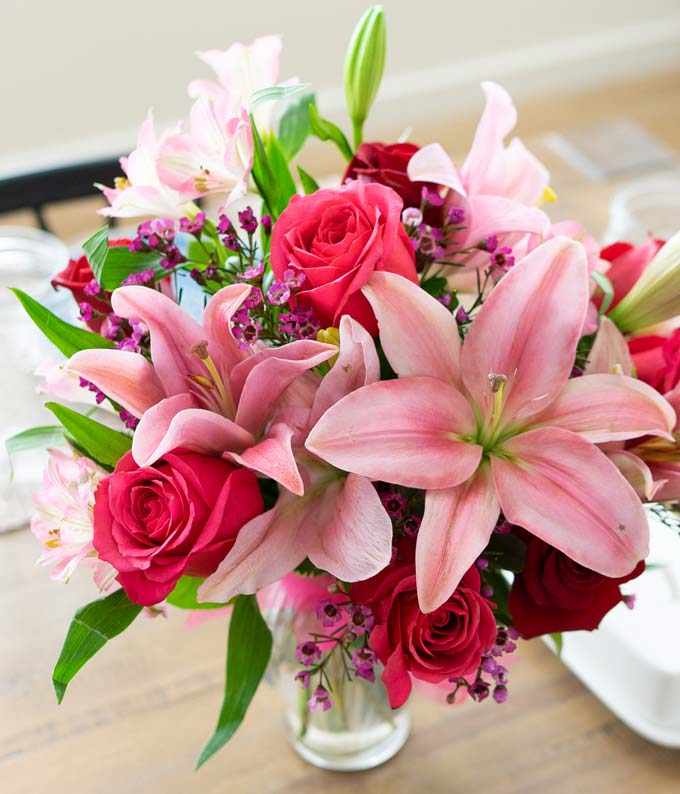 You may have someone in your life that you love that's not a rose person. They could be the type of person that loves the color purple and hues of pink. The Valentine's Romance Bouquet could be an excellent choice. It offers far more character and depth with a wider range of flowers bundled together in a beautiful pink bow. You'll find pink Asiatic lilies, purple waxflowers, alstroemeria, and both pink and red roses. A vibrant and virtually stunning look, this is the type of flower bouquet your loved one is sure to cherish receiving on this special day.
Pure Romance – Passionate and Stunning
For something that's a bit more traditional, consider Pure Romance. It provides you with one dozen stunning, deep red roses, all wrapped in kraft paper with seasonal greens within them. It's all bundled together with twine. Walking in with these flowers in your arms or having them delivered to your loved one's home or office is sure to bring a tear to their eye. You can even upgrade this if they really mean just a bit more to you to 18 roses or even 24 roses.
Charming and Flirty – Blissfully Yours Arrangement
Do you need something truly impressive to give to your loved one, but you want something that's not just red roses? The Blissfully Yours arrangement is an excellent choice. With this flower arrangement, which includes red roses, pink alstroemeria, pink waxflower, and red carnations, everyone will know your passion for that special someone in your life. The arrangement of pinks and reds is perfect for Valentine's Day, especially with the red vase and ribbon around it. It's impressively thoughtful.
Pink and Playful – Pink Surprise Bouquet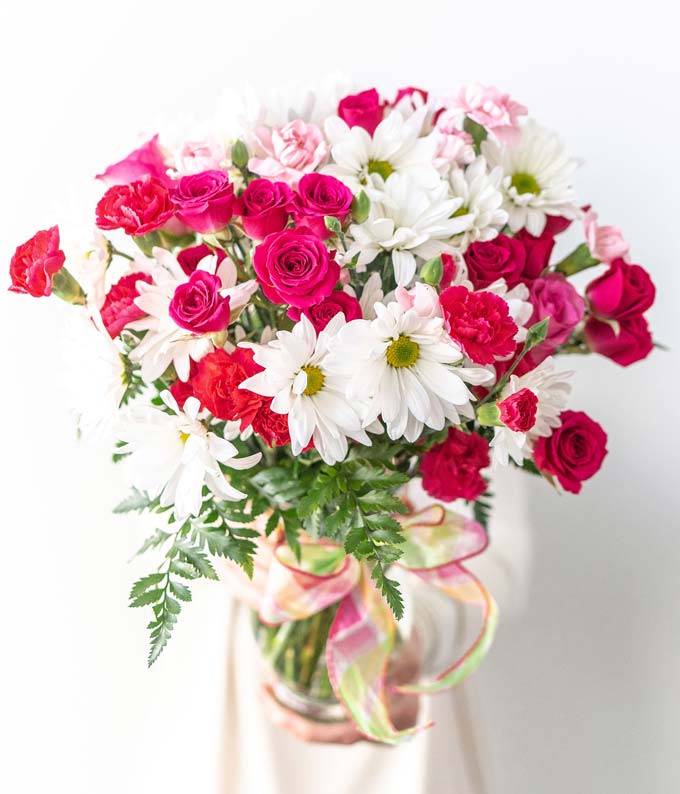 Valentine's Day is not just for the love of your life. It's a day to celebrate love in many forms. That's where the Pink Surprise Bouquet comes into play. It's stunning with its vibrant pink colors and perhaps the ideal choice for anyone you love, from your daughter to a sweet friend that's always there for you. This bouquet includes a range of flowers, including bright white traditional daisies, hot pink spray roses, and pink mini carnations. It's all placed in a fun clear vase with a pink (of course!) bow.
Elegance Assured – Classic Red Rose and White Lily Bouquet
When you want something even more special for that person in your life that is sophisticated and elegant, consider the Classic Red Rose and White Lily Bouquet. It combines red roses with white lilies in a beautiful red cylinder vase. The lilies give it a unique charm, and without a doubt, this is the type of flower arrangement she is sure to love no matter what the occasion.
A Special Love – From the Heart
Perhaps your grandmother doesn't often receive flowers on Valentine's Day any longer. Or, you may have a friend that you love, like a sister, that you want to give something special on this day. No matter who it is, From The Heart is a special way to make it happen. It's a luxurious bouquet of flowers that anyone will love. It features beautiful red roses along with purple monte casino and purple alstroemeria. It's all in a beautiful vase with a red satin bow. This is an arrangement that the special someone in your life will love to look at each day.
Elegant and Charming – Whimsical White Roses
There is someone in your life that will simply love the elegance and simplistic beauty of Whimsical White Roses. This bouquet looks as though it was picked right from the rose garden of a lavish English castle. Truly stunning, the long stem white roses, along with gypsophila, make for an exceptional look. You will find that it's breathtaking and something anyone will cherish receiving. When you have someone special in your life that may not love red roses, this is an excellent choice.
Something Extra – One Dozen Long Stem Red Roses with Chocolates and a Bear
Perhaps the traditional red roses are perfect, but you want to give something a bit extra. There may be someone in your life that will love a gift that's a bit more meaningful. The One Dozen Long Stem Red Roses with Chocolates and Bear could be just what you need. A box of fantastic, sweet chocolates is coupled with a sweet stuffed teddy bear. That way, they will enjoy a visually stunning flower arrangement now, a fun teddy bear to keep forever, and a box of chocolates to enjoy some lavish decadence on this special day. How perfect is that?
Vibrant with Life – Perfect Love Bouquet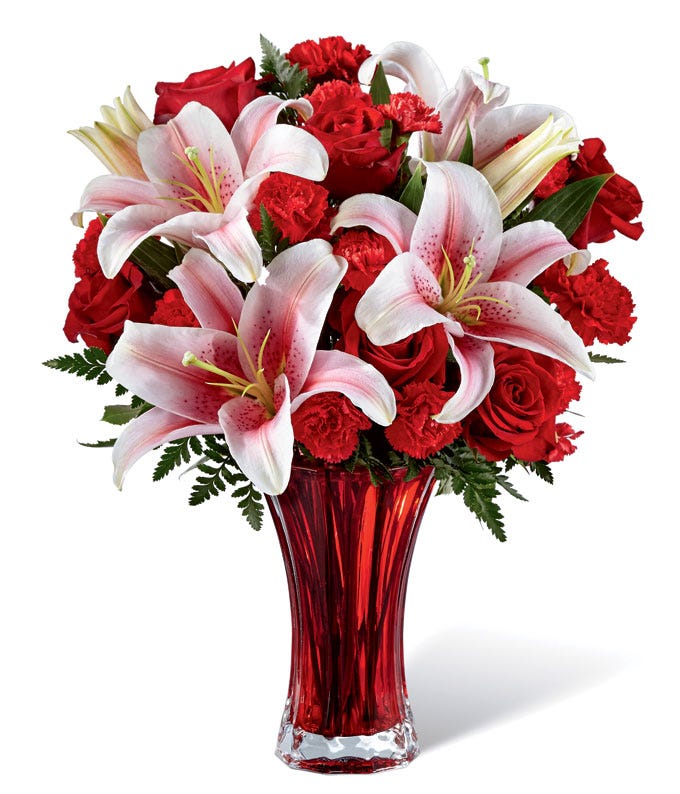 Roses take the backseat in Perfect Love Bouquet. If there is someone in your life that is unique, vibrant, and full of life, give them a floral bouquet that is just as unique. The Perfect Love Bouquet includes red roses, red carnations, pink oriental lilies, and red mini carnations. It's all placed in a red cylinder vase. Quite beautiful but also unique in the combination of colors and flowers, this is a special gift that takes Valentine's roses one step further.
Bring on the Charm – Romantic Rose Masterpiece
Is there someone in your life you want to romance? If so, The Romantic Rose Masterpiece is the perfect way to do so. It combines both red roses with light pink roses in a playful, flirty look that is sure to bring a smile to someone's face. Upgrade it to 18 roses for something a bit more impressive. It's a bold statement but one that's quite sweet and ideal for those who you want to charm on this special day. Have it delivered to work to brighten up their day in a moment. It's perfect for the romance of this special day.
Ignite Passion – Madly in Love Bouquet
There may be times when you want someone to understand your true passion for them. When its name represents the way you feel, the Madly in Love Bouquet is the perfect choice for that special day. It's fabulous with both full size and mini roses, including red, pink, lavender, and coral varieties. It is a fantastic option to give to someone you love while they are at work or school, so they think of you all day long until they arrive in your arms. These are special Valentine's Day roses that arrive in a red square glass vase for extra charm.
Keep Them Forever – Luxury Dozen Preserved Red Roses
Red roses symbolize a passion and love that is hard to overlook. It is a feeling that you want someone to remember for years – if not decades. Giving the Luxury Dozen Preserved Red Roses can help to make that happen. These flowers are designed to stay fresh for up to two years! Their blooms are fantastic, and they don't even need light to look their best. Tell someone you love them not just for one day but for a year or more. It's all delivered in a charming hat box with a personal card message you create.
Bold and Beautiful – Two Dozen Valentine's Day Rainbow Roses
When there is someone special in your life that lights up every day and brings a smile to your face, you need to give them flowers that can help to bring that sentiment to life. The Two Dozen Valentine's Day Rainbow Roses could be the perfect way to do that. They are packed with color, overflowing with fabulous charm. This is the type of gift you can give anyone that you want to make happy on this special day.
Find the Valentine's Day Roses Perfect for You
At From You Flowers, you will find a wide selection of Valentine's roses. Pair them with other flowers, make them special with an added box of chocolates, or give them a sweet bear to go with the flowers. There are an endless number of ways you can make someone feel special on this day. Red roses could be the classic and most common option, but you can be as creative and unique as you want and as special as your love is. Pick your favorites to send right to their door now.