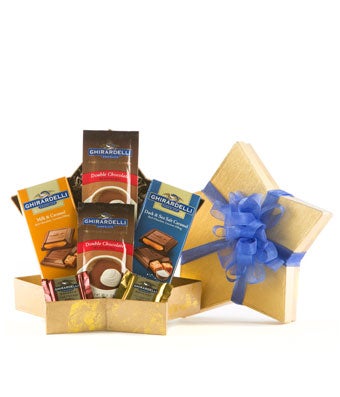 OUT OF STOCK
Item #A-83171
Item Description
A dazzling array of San Francisco's most heavenly chocolates! This gold star gift box is bursting with rich and dreamy chocolates. From Ghirardelli's most popular assorted chocolate bars to hot cocoa mix, this gift shines! Basket Dimensions: Width: 11" Height: 3" Length: 11.5".
Includes:
• Ghirardelli Luxe Chocolate Bars
• Assorted Ghirardelli Chocolate Squares
• Ghirardelli Double Chocolate Cocoa
• Ghirardelli Milk Chocolate with Caramel Bar
Due to the popularity of this product, we reserve the right to substitute items of equal or greater quality.
THIS ITEM IS CURRENTLY OUT OF STOCK.

Feel free to shop From You Flowers Best Sellers: