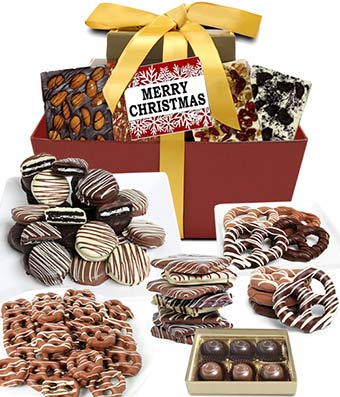 OUT OF STOCK
Item #E-563
Item Description
Send season's greetings with this basket tray full of Belgian chocolate dipped goodies! Delivered in an elegant package and tied together in a ribbon with a Merry Christmas tag.
Includes:
• 12 Belgian Chocolate Covered OREOŽ Cookies
• 6 Belgian Chocolate Covered Graham Crackers
• 6 Belgian Chocolate Covered Nutter Butter Cookies
• 4 oz Belgian Milk Chocolate Covered Mini-Pretzels
• Approx. 1/2 lb Chocolate Covered Dried Fruit Variety
• Approx. 3 oz Pistachio & Cranberry Bark
• Approx. 3oz OREOŽ Cookie Belgian Chocolate Bark
• Approx. 3oz Dark Chocolate Almond Bark
• Approx. 3oz Pretzel Caramel Bark
• Merry Christmas Holiday Tag
ALLERGEN ALERT: Product contains egg, milk, soy, wheat, peanuts, tree nuts and coconut. We recommend that those with food related allergies take the necessary precautions.
THIS ITEM IS CURRENTLY OUT OF STOCK.

Feel free to shop From You Flowers Best Sellers: