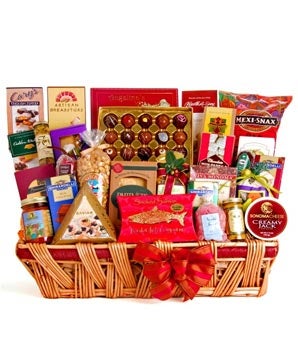 OUT OF STOCK
Item #A-76713P
Item Description
We've left nothing out of this comprehensive collection of gourmet treats. With simply too many items to list, from savory temptations to sweet indulgences, this basket offers an array of hidden treasures which leave a delicious and lasting impression.
Includes:
-Beef summer sausage
-Salsa
-Mocha Almonds
-Mendocino Mustard
-25-Piece LeGrand Chocolate Truffles
-Toffee
-Chocolate Chip mini Biscotti
-Ghirardelli Non Pareils
-Chocolate Fudge Shortbread Cookies
-Bon Appetit Snack Blend
-Sweet Onion Crackers
-Pistachios
-Spanish Manzanilla Olives
-Creamy Jack Cheese Spread
-Ghirardelli Chocolate Squares
-Ghirardelli Chocolate Bar
-Smoked Salmon
-Butter Toffee Pistachios
-Caviar
Basket Dimensions: Width: 14" Height: 23" Length: 21"
Due to the popularity of this product, we reserve the right to substitute items of equal or greater quality.

THIS ITEM IS CURRENTLY OUT OF STOCK.

Feel free to shop From You Flowers Best Sellers: