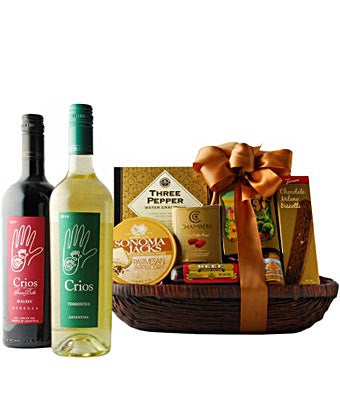 OUT OF STOCK
Item #A-96087
Item Description
After 22 years of winemaking, Susana Balbo has a strong sense of what she wants from her wines. The Torrontes has enticing aromas that are strikingly similar to Viognier, with hints of peach pit, white pear, flowers, and orange citrus fruit. While the Malbec wine has a beautiful reddish/purple color as most good Malbecs do. The aromas are a mix of fresh crushed cherries and toasty/smoky oak-just enough to frame the exuberant fruit. Enjoy this Delectable Duet with a medley of delicious treats.
Includes:
• Crios de Susana Balbo Torrontes
• Crios de Susana Malbec
• California crisp crackers
• Sonoma creamy cheese
• Monbana chocolate squares
• Smoked almonds
• Chocolate biscotti
• Beef salami
• Napa Valley mustard
• Gift dimensions: 14 5/8" x 12" x 3.5"
THIS ITEM IS CURRENTLY OUT OF STOCK.

Feel free to shop From You Flowers Best Sellers: