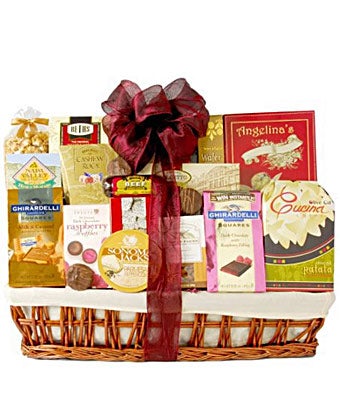 OUT OF STOCK
Item #A-62534
Item Description
We have a scrumptious solution to your gift giving needs all tied up in a bow. You will be remembered for sending this savory sampler that truly lives up to its name. Present it to someone you want to impress or share it with friends and family in your own home. Basket dimensions: 24" X 16" X 7"
Includes:
•Chocolate Wafer Cookies
• Dolcetto Wafer Rolls
•Water Crackers - Cracked Pepper
• Ghirardelli chocolate raspberry squares
• Tortilla chips
• Caramel popcorn
• Salsa
• Chocolate covered cherries
• Smoked salmon
• Cheese straws
• Pistachios
• Chocolate covered sandwich cookies
• Creamy jack cheese
• Amaretto almond cookies
• Mocha almonds
Due to the popularity of this product, we reserve the right to substitute items of equal or greater quality.
THIS ITEM IS CURRENTLY OUT OF STOCK.

Feel free to shop From You Flowers Best Sellers: