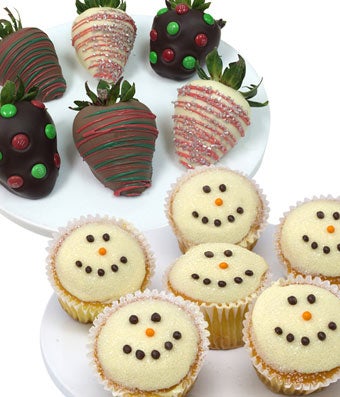 OUT OF STOCK
Item #E-508
Item Description
The weather is getting chilly. Time for snowmen and CHOCOLATE! Delicious chocolate covered strawberries are paired with amazing snowmen cupcakes to form a cheerful and exciting gift. Send this to a friend, loved one, or coworker. It is a gift they will not soon forget.
Includes:
• Six Snowman Cupcakes
• Six Chocolate Covered Holiday Strawberries
• Topped with Candy
• Delivered in a Reusable Cooler
ALLERGEN ALERT: Product contains egg, milk, soy, wheat, peanuts, tree nuts and coconut. We recommend that those with food related allergies take the necessary precautions.
THIS ITEM IS CURRENTLY OUT OF STOCK.

Feel free to shop From You Flowers Best Sellers: