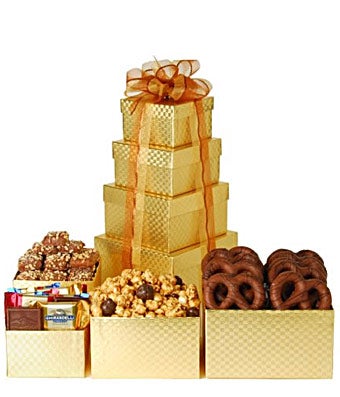 OUT OF STOCK
Item #A-83184
Item Description
If it's chocolate they love, your recipients will strike gold with our tower of sweet goodies. Each golden-striped box contains a different cocoa-covered treat. Dimensions: Width: 7" Height: 13" Length: 9".
Includes:
• Chocolate Toffee
• Ghirardelli Chocolate Squares
• Chocolate Caramel Corn
• Chocolate-Covered Bavarian Pretzels
Due to the popularity of this product, we reserve the right to substitute items of equal or greater quality.
THIS ITEM IS CURRENTLY OUT OF STOCK.

Feel free to shop From You Flowers Best Sellers: