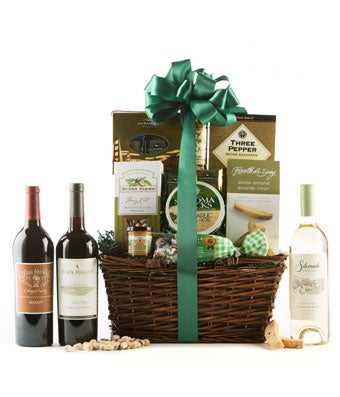 OUT OF STOCK
Item #A-120352
Item Description
Sebastiani Sonoma Chardonnay: This Chardonnay displays all the style and complexity one would expect from Sebastiani's excellent Chardonnay vineyards and careful use of oak barrels. The nose is a luscious blend of lemon curd, yellow apple, vanilla and caramel. The palate is moderately creamy with bright apple fruit and hints of butterscotch. The finish is roasty, toasty and round.
Sequana Santa Lucia Highlands Pinot Noir: The Santa Lucia Highlands overlook Monterey's Salinas Valley. Southeast facing slopes benefit from morning sun, followed by cooling afternoon sea breezes cresting over the Gabilan Mountains. Vines develop deep roots in alluvial soils deposited over ancient marine terraces. Pinot Noir flourishes here, producing wines characterized by flavors of wild cherry and appealing earthiness.
Clos du Val Cabernet Sauvignon: Characteristic of Clos Du Val's world-class style, this Cabernet Sauvignon continues the winery's tradition of producing truly elegant wines of balance and complexity. Its opulent, brooding purple hue is accentuated with aromas of ripe black and purple fruit, black pepper and subtle hints of toast. The palate displays a seamless integration of intense flavors that include chocolate, toffee and blackberry.
THIS ITEM IS CURRENTLY OUT OF STOCK.

Feel free to shop From You Flowers Best Sellers: