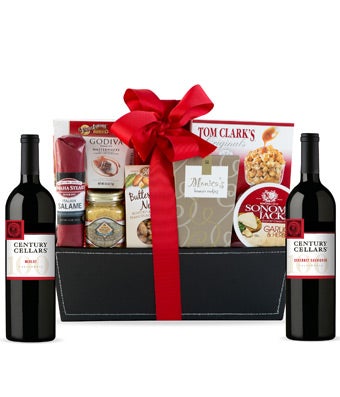 Item Description
This basket is brimming with spirit and goodness! Enjoy these two hearty red wines - the Cabernet has ripe notes of blackberry, cherry and dried spice with a dense and full-bodied texture. The merlot has jammy, strawberry and wild cherry flavors, with soft tannins and plenty of fruit on the palate.
Includes:
• BV Century Cellars Cabernet Sauvignon
• BV Century Cellars Merlot
• Sonoma creamy cheese
• Water crackers
• Beef salami
• Honey roasted peanuts
• Napa Valley mustard
• Caramel popcorn,
Dolcetto Vanilla Wafer Rolls and Licorice Petites
Basket Dimensions: 14" x 8" x 9"
Due to interstate restrictions on the shipment of wine, this product can be shipped to the following states only: AL, AK, AZ, AR, CA, CO, CT, DE, FL, HI, ID, IL, KS, LA, MD, MA, MI, MN, MO, NE, NV, NH, NJ, NM, NY, NC, ND, OH, OR, PA, RI, SC, TN, TX, VT, VA, WA, DC, WV, WI, WY