Daisies can be found all over the world, except for Antarctica, and is a two-in-one flower. The typically white petals are considered one flower, and the center usually yellow disc, is technically a second flower. Interestingly enough, the leaves are edible and high in Vitamin C, and for that reason, have medicinal properties, such as relieving indigestion and easing coughs.
The word daisy comes from the Old English name for it which stood for day's eye, as the petals close as dusk and open at dawn. Daisies circulate nutrients and water throughout itself, and consists of thirteen subfamilies within its scientific class. Here at From You Flowers, we sell two of the most popular daisy types: gerbera and shasta, each with its own history and symbolism, which can all be read below.
Gerbera Daisies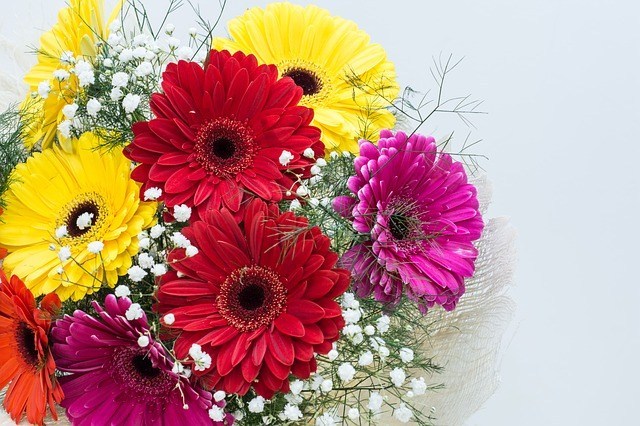 These gerbera daisy flowers are named after German botanist and doctor Traugott Gerber, and are native to tropical regions in Africa, Asia, and South America. Varying greatly in shape and size, they also come in a variety of colors such as orange, pink, red, yellow, and white. Gerbera daisies are the fifth most cut flowers in the world and are perennial plants, meaning that they are long-lasting.
Gerbera daisies hold as many meanings as they do colors, which also symbolize different things. Overall, however, gerbera daisies stand for happiness and joy. As far as individuals colors go: red stands for love and romance; white for innocence and purity; yellow for happiness and joy; pink for adoration and admiration; and orange for joy and sunshine. Bearing that in mind, there are a handful or reasons for sending this particular flower to someone.
Red ones could be sent as an anniversary, just because or slightly less traditional Valentine's Day gift to express your deep affections to your loved one. White ones could be sent to congratulate parents on a new baby while keeping colors gender-neutral. Pink daisies maybe be a good choice to send as a birthday or graduation gift to symbolize admiration for your recipient's milestone or simple admiration for him or her. And lastly, orange can be a great autumn or summer floral choice for its vibrancy.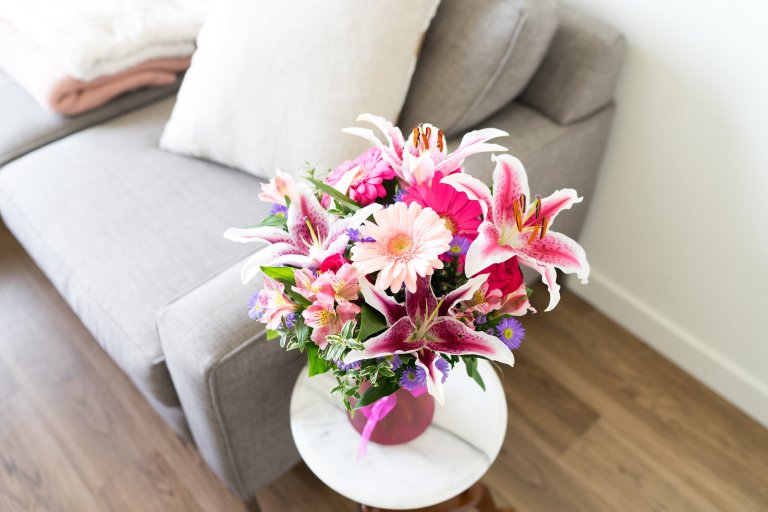 For a bouquet that exudes happiness, this is the perfect choice. Light pink gerbera daisies are arranged with with hot pink roses, pink alstroemeria and lilies, and purple waxflowers for a beautiful variety of flowers. Delivered in a pink glass vase with decorative container, you can order and have this delivered the same-day, and choose from three bouquet sizes. This would make for a fantastic celebratory gift, such as for high school or college graduations, and can be made more special with a number of add-ons.
If you are looking for a colorful bouquet to send as a floral gift, look no further. This stunning bouquet contains a variety of different colored Gerbera daisies, that are guaranteed to bring a smile to your recipient's face. Available for next-day delivery, there are a few options to expand upon your gift like adding more stems, creating a custom photo vase, or including balloons. This arrangement could be sent for a variety of occasions and recipient ages. Whether sent for a birthday, graduation, or just because, the bouquet is sure to delight.
Shasta Daisies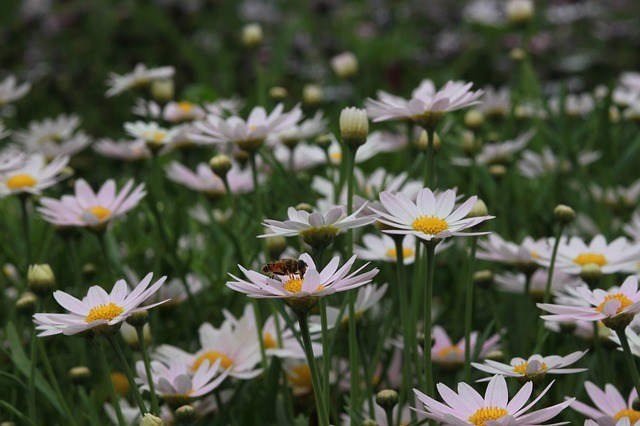 The origins of these come as a hybrid produced back in 1890 by America horticulturist Luther Burbank from a few daisies. The multiples crossings of hybrids resulted in a species from three continents. These daisies gets their name from Mount Shasta, a volcano in California, as the petals were the same color as snow. They are a perennial plant, whose classic appearance features white petals and yellow disk florets, along with a distinct odor.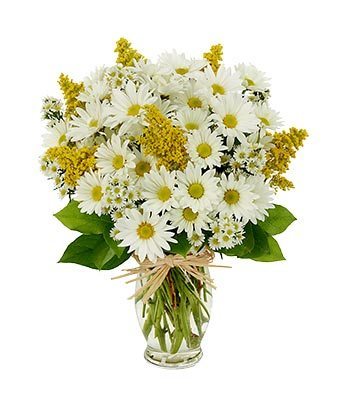 This lovely bouquet is put together with white daisies, along with white monte casino blooms and yellow solidago. Accented with lush greens, the flowers are hand-arranged in a clear glass vase. Adorned with a natural raffia ribbon, delivery for this daisy bouquet can be made today for your recipient. This array of florals is sure to brighten someone's day and bring happiness. And with its soft color palette, the arrangement makes for a great floral gift for a couple who just found out they are expecting, or new parents who favor neutral colors for their new baby.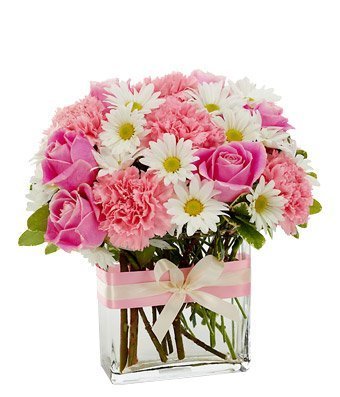 Pink and white come together for a sophisticated and soft look in this bouquet. Pink carnations and roses beautiful mix with white daisies and lush greens, which are situation in a clear glass rectangular vase. Expand upon your gift by opting for a larger bouquet size or adding a balloon, box of chocolates, or teddy bear to make it unforgettable. This pink and white bouquet would make for a lovely floral gift for the parents of a new baby girl, someone's birthday, or mom for Mother's Day.