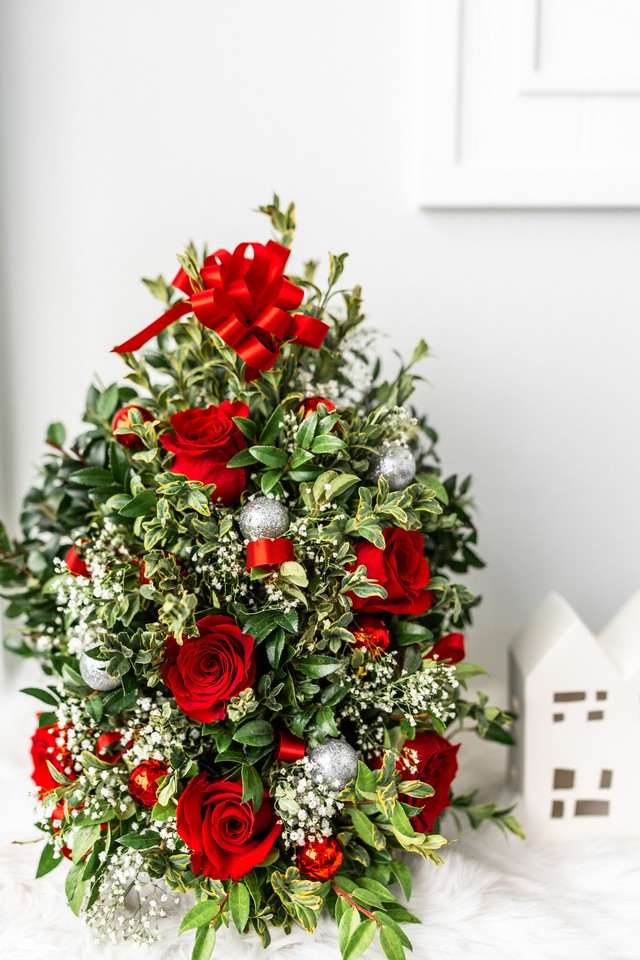 Mini Christmas trees have become incredible popular in the last few years. With their petite design and Instagram worthy cuteness, it can be hard to pass up sending a Mini Christmas Tree to a friend or family member.
There are a variety of Mini Christmas Tree options from the classic Winter greenery mixed with holiday flowers, to a little Spruce tree and the new rosemary tree that is cut to look like a Christmas tree. The rosemary Christmas tree not only looks adorable, but it would make any room smell amazing.
Here are our customer's top picks for the best mini Christmas trees for 2019.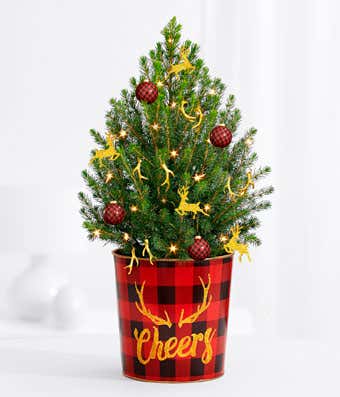 This sweet tabletop Christmas tree bouquet is created with seasonal greens and hand arranged by one of our local florist partners with red roses and white baby's breath. The Christmas flower tree is completed with mini Silver ornaments and topped with a red ribbon.
Reindeer Delight Christmas Tree
This masculine designed gift is a Mini Spruce Tree for delivery. The small Christmas Spruce tree is delivered in a plaid container that says 'cheers' and is already decorated with reindeer ornaments and mini red ornaments. This Reindeer Spruce Tree is the perfect gift for a guy in your life who you will be far away from this holiday season.
Mini Rosemary Christmas Tree with Lights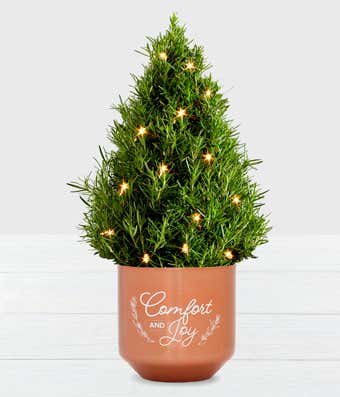 A sweet Christmas tree that is made from rosemary for wonderful smelling gift. Send your mom this wonderful mini rosemary Christmas tree that is sent in a 'comfort and joy' container and decorated with petite white lights.
These three Mini Christmas Tabletop Trees are the top picks for 2019, but we offer a lot more Mini Christmas Trees for delivery this season. Find the perfect mini tree to place at the center of your holiday table, or to send as a gift.