When it comes to Halloween, you may be a bit too old to go trick-or-treating, but that doesn't mean you can't celebrate this holiday and have some fun with it. There are plenty of ways to do that, whether you want to add some fun décor to your own home or send flowers for Halloween to someone that is special to you. Surprise the grandkids with some fun Halloween items, or just make your home special for a family celebration you're having. From You Flowers wants to help you by providing nothing short of lots of Halloween fun, even a few items that are spooky! Check out all of our Halloween gift basket ideas.
It's All About the Candy
Let's face it. For the kids running around ringing doorbells, there's a lot of adrenaline in those costumed faces as they dart from one area to the next to collect as much candy as possible. If there's someone in your life that may be missing out on all of that fun, no matter their age, why not give it to them? Have the Trick or Treat Halloween Basket sent right to their door. It is the perfect choice for those who love candy bars, those who like fun little gadgets, and even a jack-o-lantern. It is such a fun way to bring a smile to someone's face this holiday season.
Let's talk about the person in your life that loves nothing more than a Reese's. It's their go-to snack, and when they do get a chance to do so, this is what they grab. The Reese's Candy Bouquet is an excellent choice for them. It is not about flowers, though. Instead, it comes with packages and packages of Reese's that are arranged in a sweet flower-like bouquet, perfectly suited to anyone who would much rather get something sweet for this holiday than anything to do with flowers.
There are lots of other options that can work well here, too. Perhaps you remember as a child being infatuated with the houses on the block that always gave out the full size candy bars. That was always your first stop. Why not celebrate that by giving someone special in your life – perhaps your adult children or even a sibling that raced to the house with you, a fun candy bar surprise? The Large Candy Bar Bouquet makes this super easy to do. You'll love the fact that there are so many favorite candy bars to choose from here, too.
Flowers and More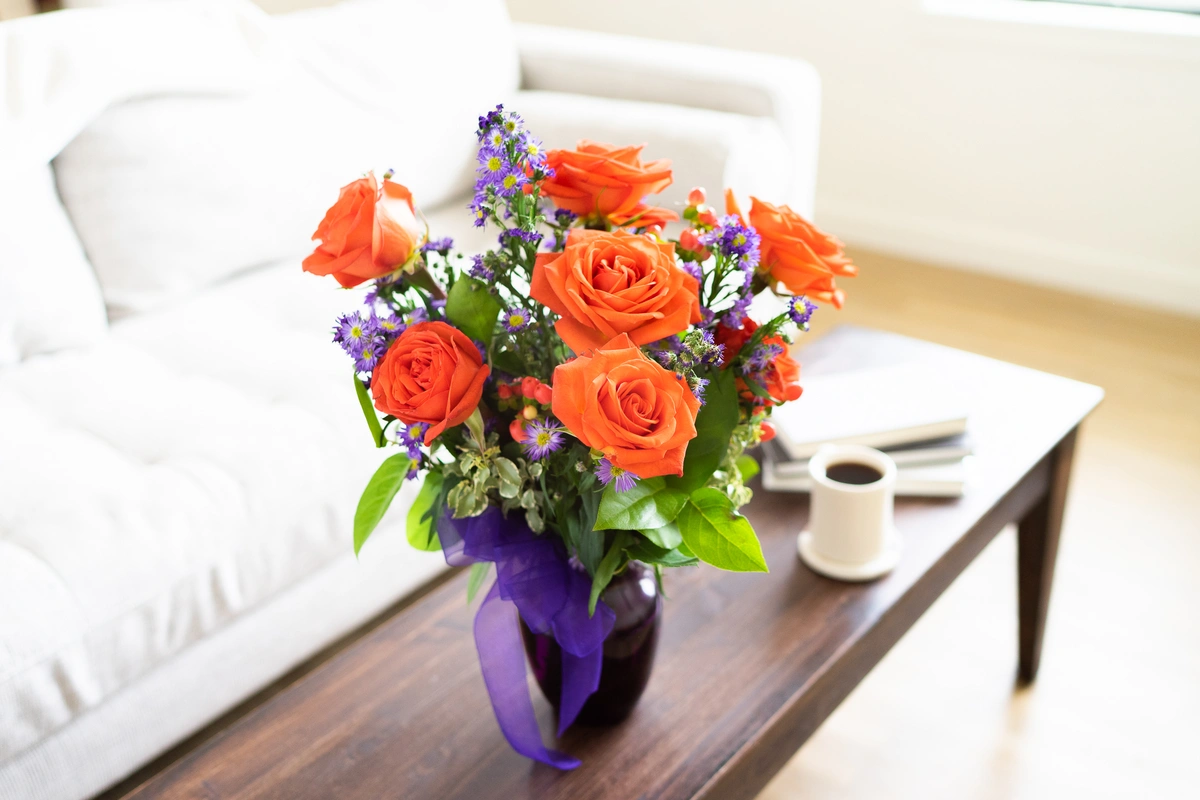 Do you host an event at your home each Halloween, or are you planning to do so this year? Why not invite in all of the family for a nice meal and some haunted tales? If you plan to do this, you'll need to have all of the right décor throughout your home, but we have a special piece that is the perfect combination of Halloween spooks and beautiful flowers.
The Jubilant Jack-o-Lantern is a fun treat. This beautiful bouquet of flowers sits in a jack-o-lantern with a not-too-scary face. At the top are two black bats, a curly willow, and a few other items that help to create this charming look. You'll love the sunflowers and the red spray roses that are a part of it, too.
There are a lot of fun ways to celebrate Halloween with flowers this year. You may want to check out one of the most vibrant displays available in the Happy Halloween Bouquet. Perhaps you have a loved one that's stuck in the hospital, or they live in an assisted living community and can't get out for the fun. This bouquet of flowers is just right for them. It features stunning orange roses with purple Monte Casino, all in a purple passion vase. It is sure to bring a smile to their face, especially with the sweet Halloween Ribbon and Happy Halloween topper. It's just too cute not to love.
Let's be honest here. There are some people that may not like all of the spooky elements of Halloween but still would love to have some fantastic options for decorating their space. There are tons of options available. Check out our full lineup of Halloween flower gifts. You can choose beautiful displays of orange and red flowers, all with a beautiful touch to celebrate the season. There's no doubt there's something special here for just about anyone.
Pumpkin Charming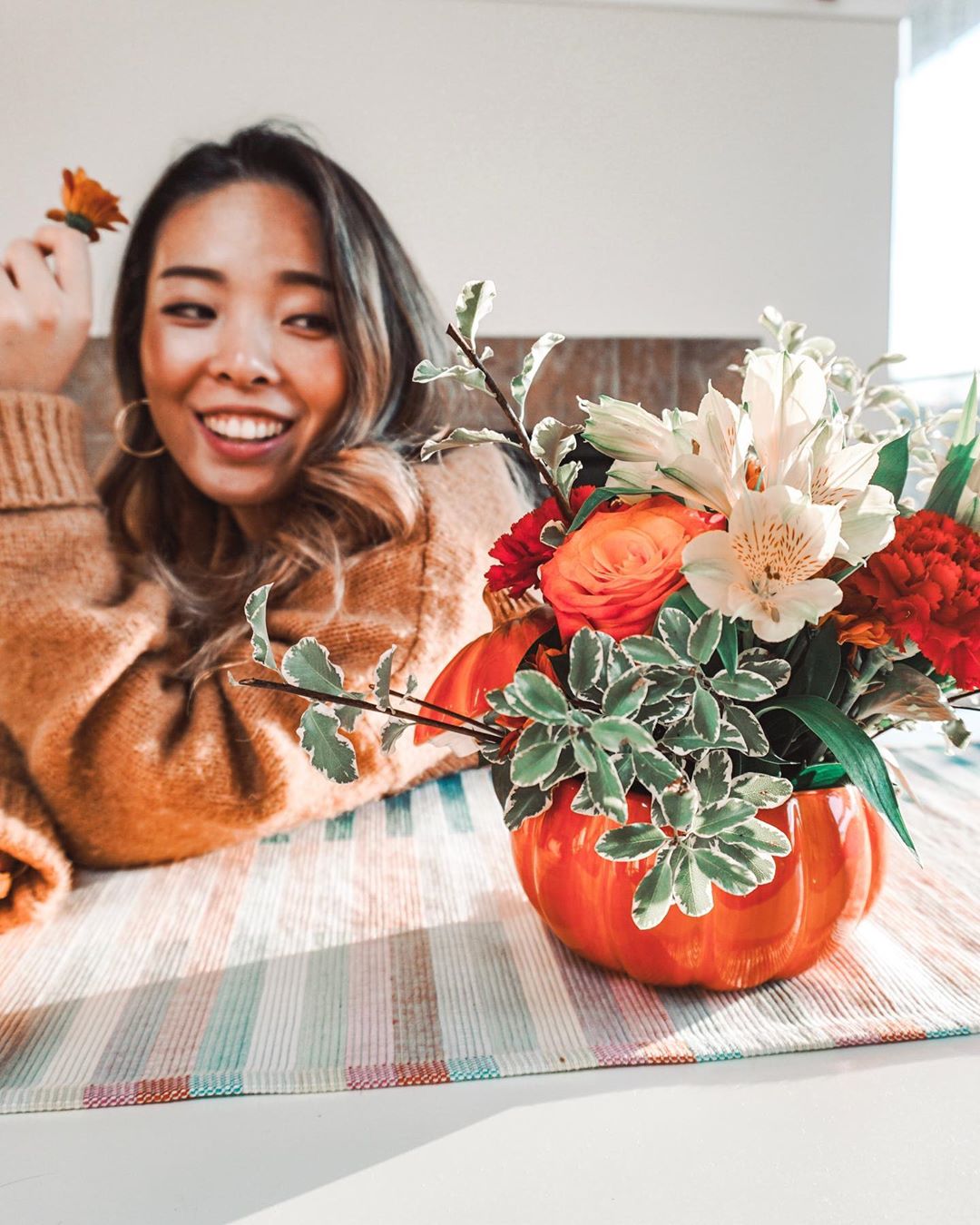 Halloween can be perfectly content with a bit of pumpkin fun. If you have lots of memories of carving pumpkins as a child or with your kids, you may want to add a few beautiful floral displays that can help to keep that memory fresh and alive with you throughout the year. There's no doubt this is an easy way to decorate for the holiday as well.
From You, Flowers offers lots of fun things to choose from. That is, you can choose the size and flower arrangements that are just right for your needs. They come in a ceramic pumpkin. Check out the Plentiful Pumpkin Arrangement as a good option. It has beautiful orange roses and sunflowers in it, creating the perfect look and feel for something very special. You can choose from several other options, too.
Send a Gift with a Creep Factor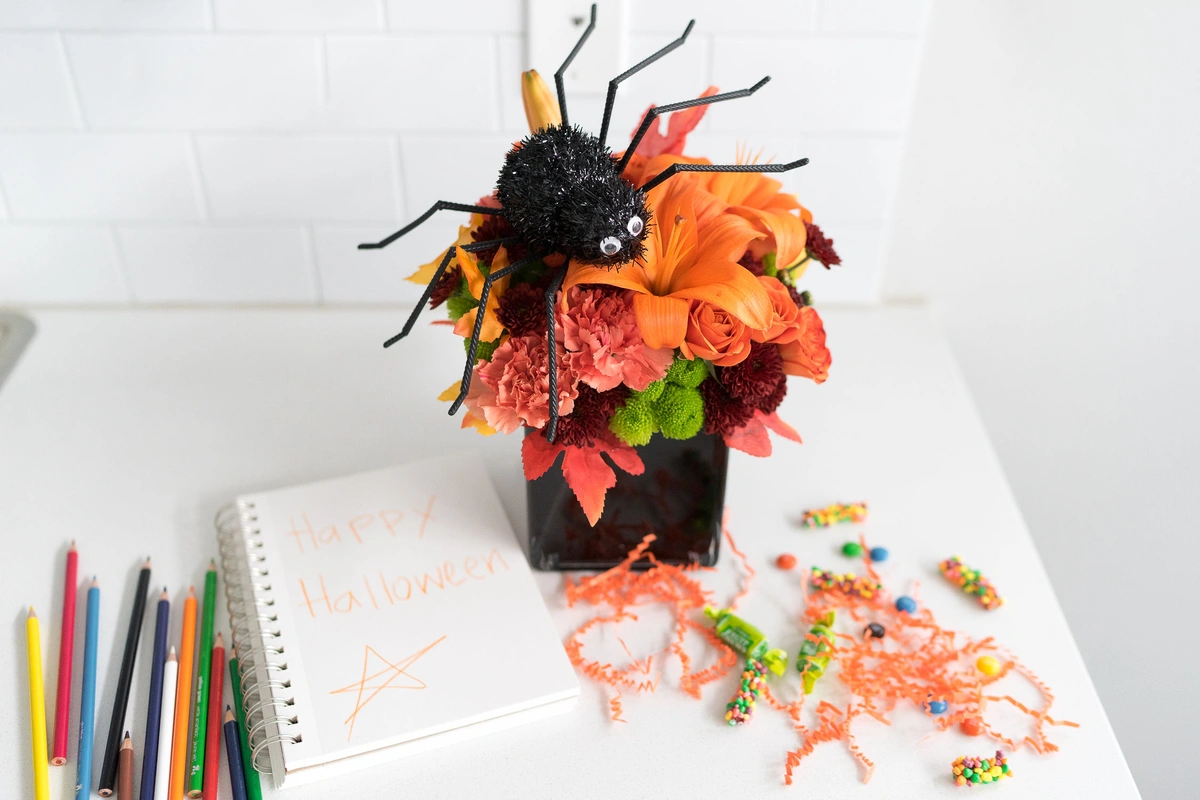 Perhaps you want to say Happy Halloween to someone at work or a friend that you love to prank. If there's someone in your life that just cannot stand spiders, this is the gift for them. The Spooky Sweet gift is the perfect option for those people that need something beautiful that has a bit of a creep factor to it. It features a beautiful bouquet of flowers that includes orange lilies, roses, and carnations. What they may not see at first, but are sure to love, is the googly-eyed spider that is sitting on top of it all. This is sure to bring a smile to anyone's face, right?
Need Some More Ideas?
Let's say you want to send a treat to a family you love, but you are not too sure they would appreciate a big bouquet of flowers. There are plenty of other options out there, but we think the Care Package Snack Crate could be one of the best. It's got fun candy in it and lots of other treats that is sure to bring a smile to their face no matter how often they open it up to take something out to enjoy.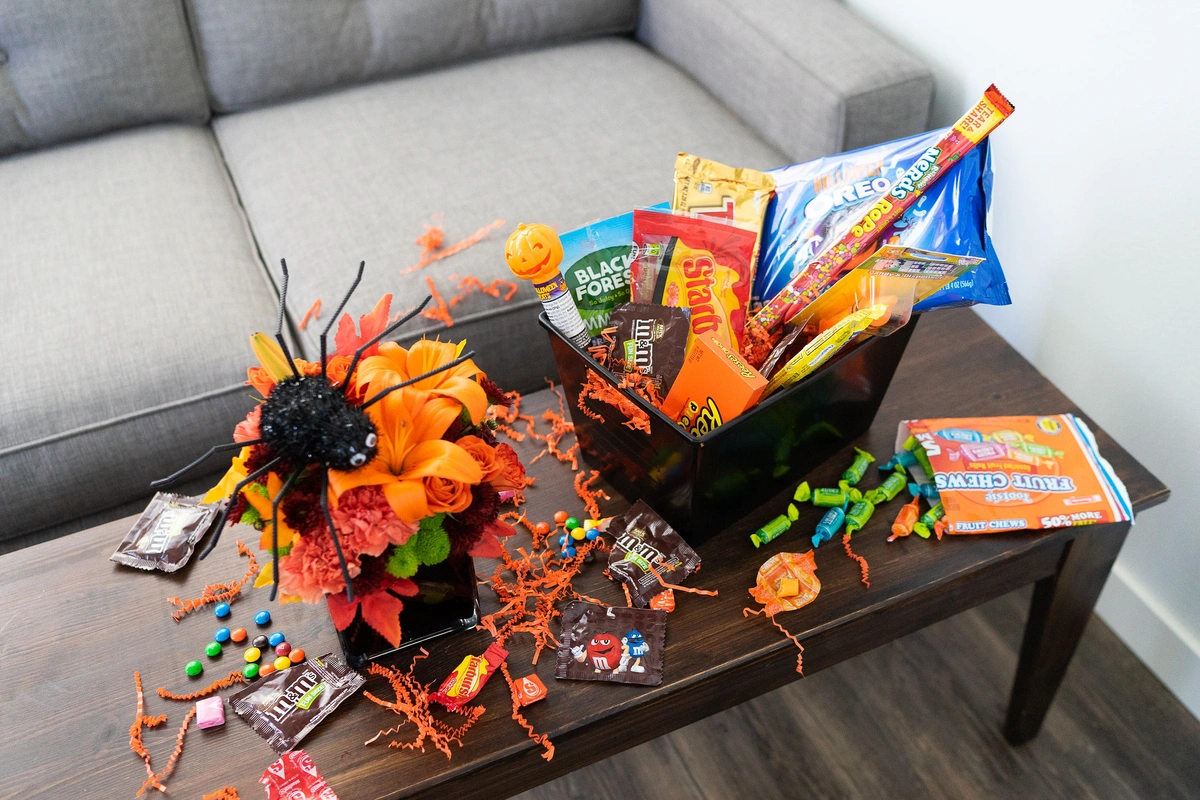 Do You Need a Centerpiece?
For those times when you are hosting a big event or even a small gathering of your closest friends on Halloween, you need to set the stage for the mischief you are planning to have. Start with some great food and the right cocktails and drinks. Then, choose a few of the best centerpieces to really bring home these experiences. There are quite a few options to choose from here.
The Autumn's Pumpkin Pilgrimage arrangement may be one of the best for this type of fun event. It is a larger display (and you can purchase an even bigger one if you would like to do so!) It contains a wide range of beautiful flowers, all in the right color pattern for the holiday. That includes orange carnations and mini carnations, orange Peruvian lilies, and purple statice. All of that is nestled into a pumpkin that's made of ceramic.
Are you planning more of a romantic Halloween with just the two of you? The Cozy Sunflower Centerpiece could be a fun choice. There is no doubt that this can provide you with an outstanding display with two beautiful candles in the center of it. Packed full of bright orange and yellow flowers, including sunflowers, carnations, and daisies, it is one of the best centerpieces you'll find available today.
Are You Looking for Something Really Scary?
Sometimes, it's just so appropriate to scare a loved one. You may want to give them such a fright! With this particular gift basket, you're sure to do just that!
It's a Premium Fruit Basket! Yes, we know, that's pretty frightening when it comes to telling the kids they can't have their candy until they heat an apple, but for those that love a bit of laughter (and who doesn't need it), this is a great basket to give. Pick and choose the size right for your loved one, depending on just how much you want to "scare" them this holiday.
Finding Just What You Need at From You Flowers
There's always something fun to give to those you love at Halloween. Take some time to browse our site now to find the perfect Halloween gift basket for the people in your life that you are completely willing to spoil or just those you want to bring a smile to their face. Remember, you can also add a teddy bear or even some balloons to any of your gifts. Make it a fun Halloween for those you love.