Everyone's go to flower delivery for Valentine's Day is a traditional red rose. Many shoppers are surprised around Valentine's Day to find that roses aren't as readily as they thought they would be. If you order Valentine's Day roses early, then you won't encounter any problems. Many shoppers wait to order roses last minute though. As with most thing that are highly sought after during specific days of the year, you may find you've arrived to the party too late. If that's the case, it's good to know what other flowers are good alternatives. If you would like some fast alternatives to roses for Valentine's Day, these flowers are our recommendations. We've also paired them with top selling bouquets.
Pink Roses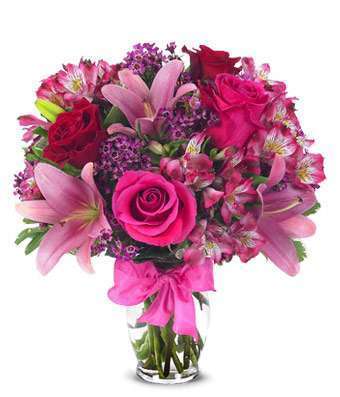 Pink roses are the most ordered flowers for Valentine's Day. Even when red roses become out of stock or too expensive around the holidays, pink ones are still available. Soft rose petals feel wonderful held within your hand, carry a lovely fragrance, and are simply beautiful.
Red Carnations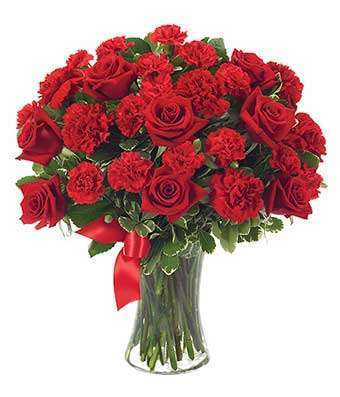 When a full bouquet of red roses isn't available, look for red carnations. If you've waited too long to pre-order a rose bouquet you can also choose from rose and carnation mixed bouquets. You can save a lot of money choosing from mixed carnation arrangements. Your gift will also look fuller in most cases because the carnations are excellent in adding lush volume to floral displays.
White Lilies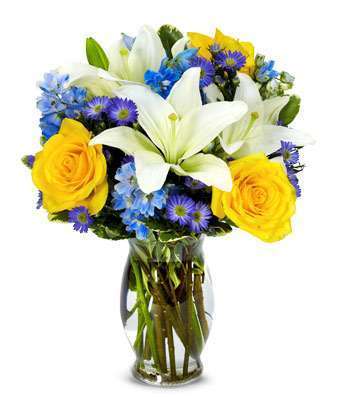 If you decide to send white lilies, you won't be sacrificing anything at all! Adored by both men and women, a white lily bouquet is an excellent rose alternative. You can still pick from red flower and white lily bouquets if you want a romantic feeling arrangement, but colorful bouquets are equally nice. This mixed blue flower and white lily arrangement is beautiful and still has bright pops of color. It'd be a great Valentine's Day gift for him if you choose not to send roses this year.
Succulent Arrangements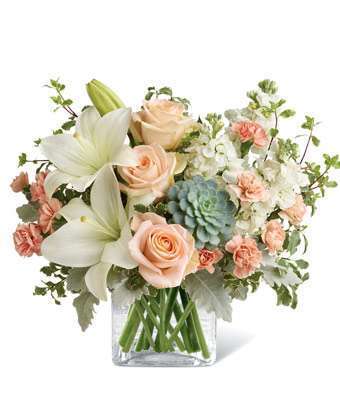 Succulent arrangements are relatively new and a great option for him or her instead of sending roses. A succulent bouquet can be enjoyed for almost a full week. Not only that but once the flowers have left this world, the succulent will will last for weeks beyond. With proper care, they'll enjoy a long lasting bouquet with a continuously giving succulent gift. This modern succulent bouquet is soft yet structured. It's one of our best recommendations for those of you who decide to try out succulent delivery this year instead.
Orange Roses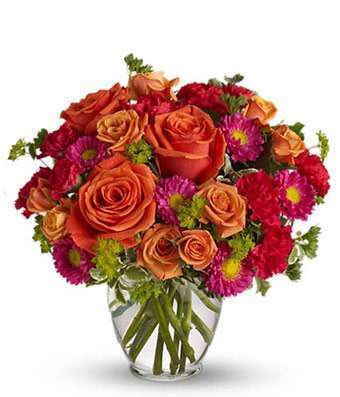 When red roses aren't fun for you anymore, or are just sold out, send orange roses instead! More and more shoppers are turning towards orange rose arrangements all year around. Not just for holidays, but any time fo the year, orange roses are a lasting favorite. This orange rose bouquet is still romantic with hot pink flowers, mini and full sized roses. Fragrant, vividly colorful, and hand delivered in a glass vase, it's perfect for your beloved.
Sunflowers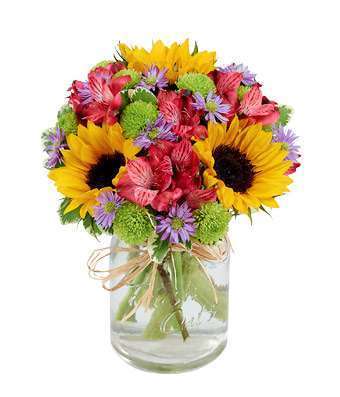 Everyone loves sunflowers. One of the most purchased types of flower for Valentine's Day, sunflowers are beautiful on their own or in mixed bouquets. These large yellow flowers offer a warm homey feeling and they last a long time. Florists love to pair sunflowers with brightly colored alstroemeria and mum blossoms. That's great because it creates a nicely sized bouquet for the recipient that's not too expensive for the sender. Sunflowers for Valentine's Day can come in square, round or mason jar containers. Simply choose what you think your loved one would enjoy most.
Mug Arrangement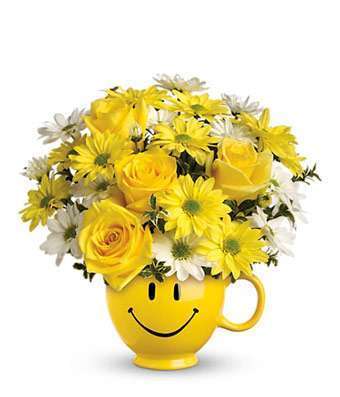 Mug flower arrangements make wonderful Valentine's Day gift deliveries. It doesn't really matter what flowers you choose from, it's the mug gift they receive that they'll really enjoy. Not only will they not have to store a vase, they'll have a useful utilitarian item to enjoy too. They'll think of you every time they use it and that brings joy to them every day. Marie Kondo would recommend it we think!
White Flowers – Any Type!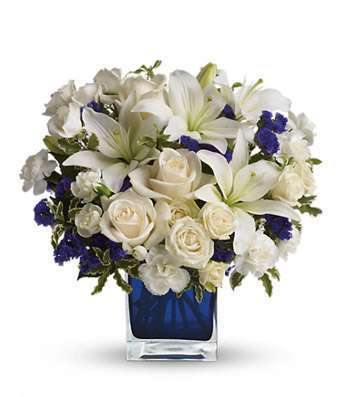 Instead of going for a deep crimson red, try a clean, entirely white flower bouquet. Many shoppers choose to send white flower bouquets around Valentine Day too. They're crisp and clean looking, and they can be as fragrant as you wish. If you want fragrance look for white roses in a mixed arrangement. If you prefer a structured bouquet with less fragrance lilies are a good choice and are well-suited to individuals with allergies. For an added touch of fun, you can look for all white flowers with just a hint of color or a colored glass vase. The one seen here is very popular. Though the floral display and simple and elegant, the pops of blue color add another alluring element to the mix.
Stargazers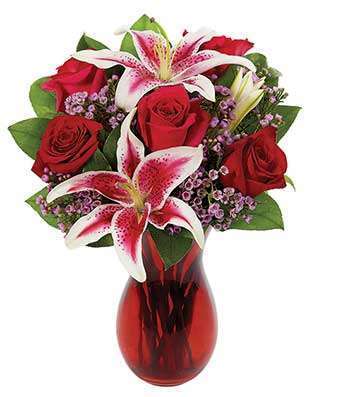 Romantic and usually easy to find, stargazer flowers look right at home in any Valentine's Day flower arrangement. The bright red centers of these large flowers express love with white tipped edges add more interest. Pick from stargazer Valentine bouquets that also feature roses, or pair them with carnations and other colored flowers. Purple and red and also very complimentary and create alluring displays. Stargazer lilies are large and offer a lot of color for your loved one or friend. For a stronger affect pick styles with a matching vase in a deep color too. Dark violet or crimson red glass will make your gift all the more memorable.
Irises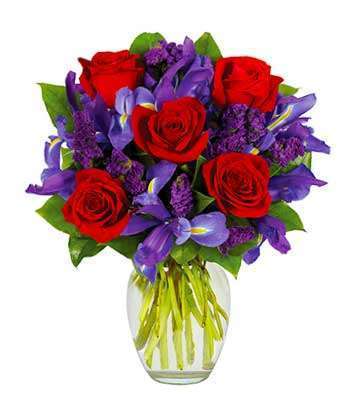 Never underestimate the mesmerizing power of irises. We love this iris bouquet that still makes use of touches of red rose, but these iris flowers are equally beautiful on their own. They're called blue iris and sometimes purple iris, all depending on the eye of the beholder. The purple statice in this arrangement adds a soft texture to the finished centerpiece. The result is a romantic flower delivery that says I love you, but I still want to surprise you too!
Alstroemeria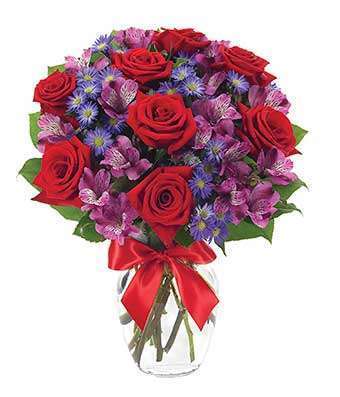 Beautiful alstroemeria bouquets are both affordable and easily delivered same-day. If you want something other than roses but also need a same day Valentines flower delivery, alstroemeria arrangements are ideal. These flowers are so vibrant and light as air. Beloved by many and sometimes overlooked, they can surprise her or him this year. Lightly fragrant and usually long-lasting, it's a great substitute to traditional rose bouquets.
Rainbow Roses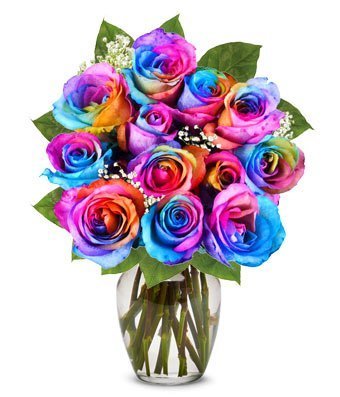 Knock someone's socks off this year with these multicolored rainbow rose bouquets. Definitely not a traditional bouquet, rainbow rose arrangements come hand delivered in a vase or in a box gift. You can pick at the checkout which style you prefer. Hot pink, neon blue, purple, orange and yellow roses mixed together with babies breath and greens will make them gasp. Please note these arrangements are not available for same-day delivery, only next-day.
Stock Flowers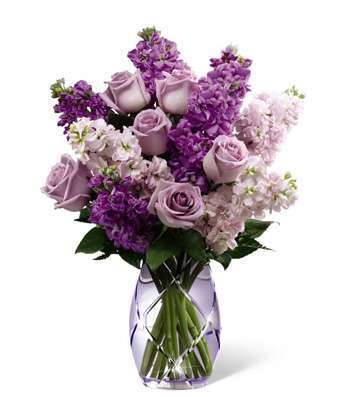 Stock flowers are simply beautiful. Tall, proud, and still delicate, these thick growing stems are every bit as desirable as roses. They look very nice in single color theme bouquets and can be featured on their own for a cute farm fresh look. In the stock flower arrangement we chose to feature below, the etched glass adds definition and grace to the completed display. Entirely different from roses in every way, the stock flower is one of our top rose substitutions.
Zen Gardens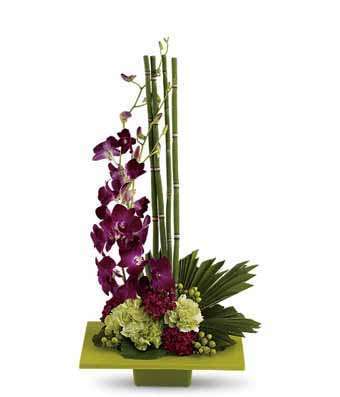 In this zen bouquet you'll find beautiful orchid flowers, green carnations and bamboo style stems. Zen bouquets come with any kind of flower you can think of, but we recommend a bird of paradise or orchid centerpiece. More structured flowers look better in clean, zen arrangements. For the person who likes a clean work space, spotless counter, or loves a simple Japanese style home, imagine how thrilled they'd be to receive an equally clean gift. Perfect for their home or office, this zen arrangement adds color and fragrance all without disrupting their simple daily flow.
Dish Gardens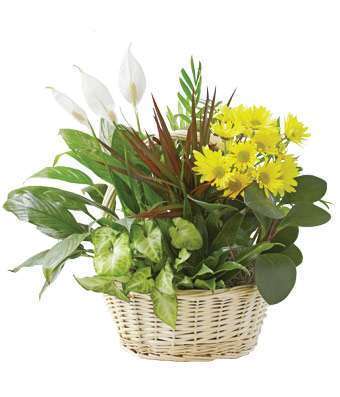 Dish gardens are the gifts that keep giving. A dish garden gift is an arrangement that comes with many plants inside. There are different styles to pick from depending on the recipient. Many people order green plant dish gardens for men, and blooming or flowering dish gardens for women, like the one below. These plant gifts are very long lasting and will provide flowers for your loved one well beyond a rose bouquet.
Daisies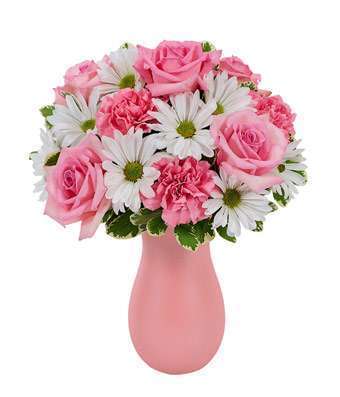 Though white daisies are probably the most popular, they're mixed with everything, so the world is your oyster! This pink flower and white daisy bouquet for Valentine's Day features no standard red blooms and still feels romantic. Perfect for someone whose very sweet or often happy and perky, match their mood with a cute daisy bouquet they'll love. The pink roses are entirely up to you. If you prefer a daisy bouquet, there are many styles of arrangements housing only daisy flowers. Choose what your recipient would smile at most.
Tulips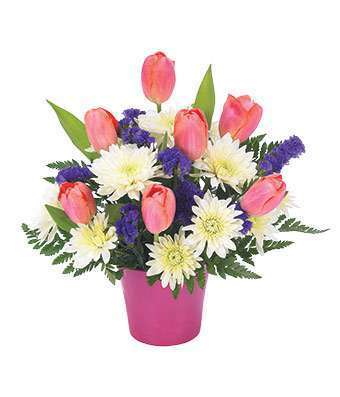 Send tulip flowers for Valentines Day instead of roses this year. Pink ones for her and red ones for him, or rainbow varieties for whomever else is on your list. Whatever color they prefer is not only available, but usually ready for same day delivery too. Did you know that tulips keep growing once cut? That means that if you choose to send tulips as a rose alternative Valentines Day, your recipients flowers will last a long time. Just cut the ends lightly each day, they'll keep growing, and your flowers will last longer. Now, that's a great floral gift.
Find more great flowers and alternative rose gifts at fromyouflowers.com!