Why do we celebrate and send Sweetest Day gifts every year? Sweetest Day is a day to share love and affection to and for someone special. The holiday is yet another way to express sentiment, and in 2021 it will be celebrated on Saturday, October 16th. While it is a fairly known holiday in the United States now, it was was not always. And if you do not recognize this day at all, keep reading on for the history of it, as well as six romantic gifts for Sweetest Day.
The very first Sweetest Day was on October 10, 1921 in Cleveland, Ohio. Herbert Birch Kingston, a candy store employee, is said to have started the holiday sensing that orphans and outcasts of Cleveland were overlooked. Wanting to instill the notion of being care for, with help from family and friends, he gave out candy and other small gifts.
Word spread about his good deed, and other Clevelanders followed his lead. Popular movie star of the day, Ann Pennington handed 2,200 Cleveland newspaper boys candy boxes as a way to say thank you for their public service. Another actress, Theda Bera, gave out 10,000 boxes of candy to those in Cleveland hospitals as well as offered candy to everyone who watched her film in a local theater.
For the years that followed, Sweetest Day gained popularity and while it has mostly remained a holiday celebrated in the Midwestern United States, it has grown to other regions. The holiday also has had a few notable milestones if you will. On October 8, 1922, candy manufacturers declared a Candy Day, and the week of October 10, 1927 was decreed as Sweetest Week by The New York Times. In 1929 it was decided that the third Sunday in October would be home to the holiday.
By 1937, the National Confectioners Association launched Sweetest Day to the level of other nationally recognized holidays such at Valentine's Day within the candy industry. On October 19, 1940 more than 10,000 candy boxes were distributed by the Sweetest Day Committee to 26 local charities, in order to promote the holiday in New York City. While the original intention of spreading happiness to less fortunate may have changed to a slightly more romantic one, it continues to bring happiness to others.
In more recent times, Sweetest Day marks a fun day to celebrate friends and those we deeply love. Greeting card manufacturer Hallmark started making Sweetest Day cards in the 1960s and currently offers nearly a hundred different card varieties for people to send to their loved ones whether near or far. Along with free personalized card messages, we also offer a large number of gift ideas for the day. The following are six romantic gifts for Sweetest Day.
Sweetest Day Flower Bouquets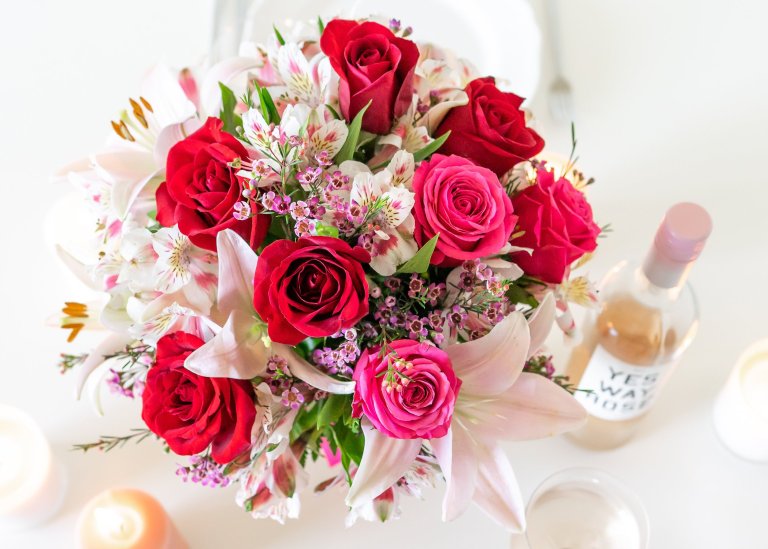 One of our best-sellers, this Sweetest Day bouquet contains pink Asiatic lilies, alstroemeria, and roses, along with red roses and purple wax flowers. The flowers are hand-arranged in a clear glass vase which is decorated with a pink ribbon. Available for same-day delivery this wonderfully bright floral arrangement is sure to make your sweetheart smile.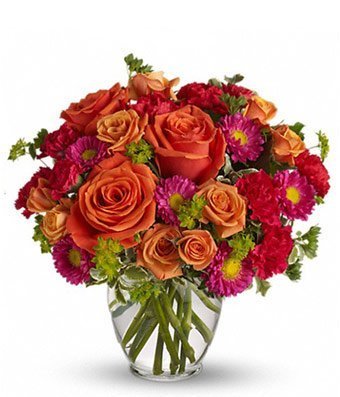 This bouquet has a rather appropriate name as well as being a beautiful fresh arrangement. Hot pink carnations and matsumoto asters, light orange roses, and orange spray roses come together in a clear glass vase. With same-day delivery available, this floral gift will convey affections to your loved one.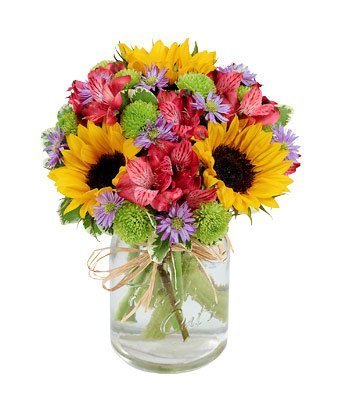 This same-day deliverable bouquet features a variety of flowers that makes it a suitable Sweetest Day gift for men and women alike. Pink alstroemeria, purple daisy pops, sunflowers, and green poms are hand-arranged for a colorful display. The bouquet is delivered in a clear glass mason jar that can be repurposed, and it is set with a natural raffia bow.
Sweetest Day Candy Baskets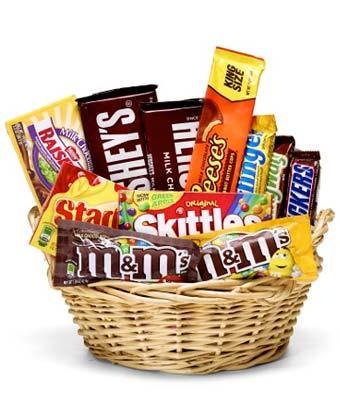 You can't celebrate Sweetest Day without sweets and just like the name suggests, it does have some favorites. Whether you crave chocolate bars or peanut butter cups, this gift basket has something for everyone. The assorted candy is delivered in a keepsake wicker basket and if you are lucky, your sweetheart will share some with you.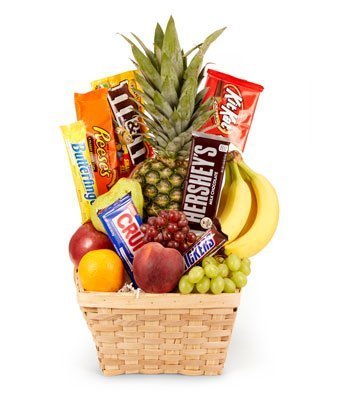 For those who like having balance in their lives, then this makes for the quintessential gift. Seasonal fresh fruits are combined with assorted chocolate candies for both healthy and delectable treats. Same-day delivery is available and a card message makes this gift basket even more special for your loved one.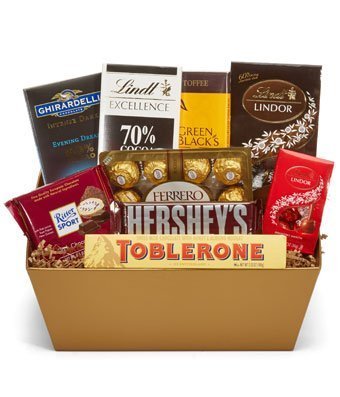 As the product name suggests, this goodie basket is perfect for those with an affinity for chocolate. A variety of decadent chocolates are arranged in a keepsake basket filled with decorative paper. This gift is available for same-day delivery and is certainly suitable for both men and women, and comes with a free personalized card.