New Year's decorations are a must for anyone planning to have a celebration of the holiday. It is always a good idea to start the year with beauty throughout your home. Flowers are a fantastic part of that experience. They convey a sense of happiness, prosperity, natural beauty, and character to any location. If you are thinking about ways to add life and interest to your home, office, or anywhere else for this holiday, these tips will make the entire process easy for you to manage.
Finding the Best Types of New Year's Decorations
New Year's flowers add a wide range of styles and decorative elements to any area. How do you choose flowers perfect for this holiday? It's the middle of winter, and that means it's even more important to choose flowers wisely for the holiday. These tips will help you choose the perfect New Year's decorations.
Start the Year with Bright Colors and Optimism
The New Year brings with it a fresh look at life and a wide range of opportunities for people to explore good things. It's easy to be optimistic when you have the whole year ahead of you to accomplish your goals. Hold onto that feeling with a bouquet of flowers like the Big Bright Blue Skies bouquet. The soft white lilies are just the backdrop to the bright punches of blue and yellow. The beautiful range of blue colors helps to paint a picture of the bright, happy days ahead. Use this as a centerpiece on a table or even on your desk at work.
Add Elegance as a Centerpiece
When it comes to the centerpiece at an elegant New Year's Eve event, consider choosing flowers that make a statement. One of the best New Year's Eve centerpiece options is the Beautiful in Blue Bouquet. Its beautiful, elegant flowers and big blooms help to make a statement of refined beauty and charm. Added to a formal table setting, these are the types of flowers that get the attention of anyone in the room. Choose the size and overall features you desire.
If you're looking for flowers that offer more color and bring more life into this type of event, consider making the New Year's Eve centerpiece the One Dozen Rainbow Roses bouquet. The beauty and vibrance of these flowers create a stunning look on any tabletop. It's ideal for a happy, warm celebration.
Be Patriotic in Your New Year's Eve Choices
New Year's flowers can certainly have a patriotic feel to them. You just have to create a look that's right for your space. Here are a few ideas.
The simplest and the most stunning of options is the Red, White, and Blue Roses bouquet. There is nothing more straightforward and meaningful than this – and it makes a big impression no matter if you place it as a centerpiece or a decorative item on your island, desk, or living room. It's bold and beautiful. You can add an American flag vase to add something special to it as well.
For something a bit more visually interesting and with more character, consider Here's to the Red, White, and Blue bouquet. It has a range of flowers in it, all with a red, white, and blue theme, including white alstroemeria, blue flowers, and red roses. It is quite an impressive look, and, depending on the size you select, it can be an excellent piece to put on a buffet table or welcoming area for a larger party.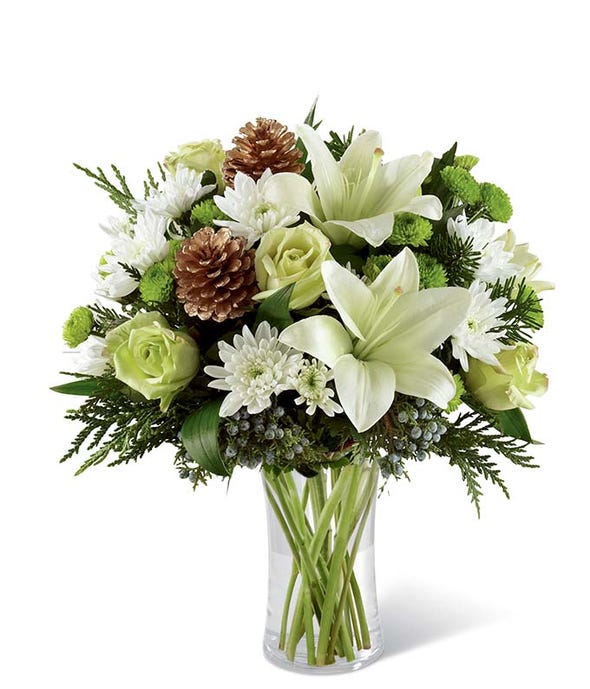 Celebrate Winter's Beauty
New Year's flowers are not always about a party or celebration. Sometimes they can be an excellent way to bring beauty into your home for weeks during the cold winter months. You can choose flowers you love and that inspire you, with most types of your favorite flowers available throughout the year in most areas. Here are some ideas to help you get started.
The Whimsical Wonderland Bouquet honors winter's warmth while teasing about spring's soon-to-be-arrival. It includes stunning white Asiatic lilies, green roses, and evergreens. It also has green and white poms to add a bit of elegance to the look. This is a fantastic choice for your kitchen table when you want to see something soft and to welcome each day.
If you want to continue with the red and white look of Christmas, consider the Christmas Holly Hug Bouquet. It is ideal for the holidays but also works well when you consider the winter months. The pop of mini red carnations against the white roses makes a nice statement. There's also Douglas fir included in the look. It's a hearty, feel-good piece.
An excellent choice for bringing nature into your January is Winter Forest Splendor. This piece is charming with white lilies and green poms. The red magnolia and frosted pine cones help to celebrate winter's beauty while also creating a bit of luxury to it. It's a charming birch planter that may remind you of a soft walk in the woods on a crisp day.
The Perfect Gifts for the New Year
When it comes to celebrating the New Year, decorating with flowers is just one step. You can also send special gifts of flowers to your loved ones and others who you want to cherish in the New Year. Bring joy to their day or simply tell them how much you appreciate they are part of your life in the New Year. Here are a few of the best choices for New Year's flowers to give as gifts.
Celebrate passion and love with our Luxury Dozen Gold Preserved Roses. Exceptionally designed and sent in a black hat box with a gold ribbon tied around them, these flowers will make an elegant statement. The ranges are presented in a regal arrangement – and they will last looking this fantastic for up to two years with proper care. If you are celebrating your New Year's anniversary or perhaps even proposing, this is one of the best flower arrangements to use.
Brighten up someone's day with vibrant flowers. Do you have a loved one that lives alone or perhaps in an assisted living or nursing home? Honor them in the New Year. You'll start the year off right with the Rose & Lily Celebration. Bright pink flowers, including pink Asiatic lilies, pink and red roses, and alstroemeria, along with some popular waxflowers, help to create an exceptional arrangement. For someone you know that has the winter blues, this is a surefire pick me up.
Do you know someone that loves succulents? This is an excellent choice for the winter months because they can last for a long time and offer that vibrant green color that's often lacking. The Sweet Succulent Bouquet is quite special. It features white and pink roses but also a number of succulents. There are some hypericum berries, Queen Anne lace, and seeded eucalyptus, along with other elements in this arrangement. It is sweet and soothing, too.
Flowers That Last
It is the start of the New Year and the perfect time to add a few flowers to your home that are not going to just be around for a few days. Instead, check out these recommendations for plants that create a stunning look that keeps giving throughout the year.
Add dimension to a tablescape with the Purple Mystique Orchid. This beautiful plant features a combination of magenta, purple, and blues, all of which are mesmerizing to look at. The petals are soft and delicate. What's even better is that this is an excellent choice for those who may not have a lot of experience with flowers and wants something that's easy to care for throughout the year.
For a flower that brings a feeling of peace and tranquility to your home, consider the Pearly White Orchid Plant. It is also easy to take care of (just two ice cubs on it once a week), but it is an impressive beauty. This is a more modern orchid with its white coloring and soft, delicate leaves. It is the perfect choice in any sunny office space or perhaps on your kitchen counter so you can see it each day.
The Blue Orchids are another excellent choice for an easy to care for plant. This one gets some height to it, about 18 to 30 inches. That makes it an excellent choice for the table by your entrance way, or you can add it to your office desk in a sunny location. The colorful blue plant is easy to take care of as well.
Finding Stunning New Year's Flowers Is Easy to Do
This year, buy New Year's flowers that bring a smile to your face and help you to create a home that's vibrant, full of life, and beautiful. From You Flowers offers a wide selection of New Year's Eve centerpieces and bouquet options, ensuring there is something here for anyone. Whether you get them for your own home or a few gifts for the New Year for those you love, you'll love the options you have.