Why not buy yourself flowers? You know what you like. You work hard and are reinvigorated with the beauty of a bouquet of flowers in your home.
The song "Flowers" by Miley Cyrus could be your theme song. In it, she sweetly sings, "I can buy myself flowers…write my name in the sand, talk to myself for hours, say things you don't understand…"
If you love the thought of flowers in your home, don't wait for anyone else to buy them for you. Instead, find something you love and buy with confidence knowing that you are sure to enjoy them for the next few weeks as they light up your home!
Buy yourself flowers. You absolutely deserve it!
How to Buy Yourself Flowers
A good place to start when it comes to buying yourself flowers is to realize there's nothing you can do wrong. Flowers are an excellent investment in yourself and a type of self care you cannot ignore. For that reason, you should buy any type of flowers you want and pay no attention to anyone who chimes in otherwise.
Know why you are buying yourself flowers
Why should you buy flowers for yourself? There are a number of fantastic benefits that come from doing so, including:
Create a vibrant, full-of-life space where you spend most of your time. That energy directly reflects on your life and your day.
Buy yourself flowers because it helps you to feel good about life and yourself. This is a great form of self care for anyone that is looking for a way to bring beauty into their life in a subtle way.
Improve your mood. Fresh-cut flowers are a great way to enhance your mood and give you a reason to smile every time you turn the corner and see them.
They are a powerful sense of intentionality. You are making your space your own, adding color and style that you love.
Add a fragrance to your home that welcomes you and helps you to invigorate your sense every time you walk by.
Whether you love the color that flowers bring or you want to make your home more welcoming to visitors, there is no reason not to buy flowers.
Should I Buy Myself Flowers, Though?
This is a question many ask. The thought of going online to buy yourself flowers may not seem like the normal way to use the site. Yet, thousands of people do it every day! You can buy yourself flowers and have them delivered right to your door. You may even want to set up a routine delivery, so your home is always smelling fresh and looking beautiful throughout the year.
It's nice when someone thinks of you to give you flowers. Yet, it's even better when you take steps to take care of yourself. So, yes, buy yourself flowers!
Tips on How to Buy Flowers for Yourself
"I want to buy myself flowers, but I don't know where to begin!" To help you, here are some tips to ensure you buy flowers you love and cherish in your home.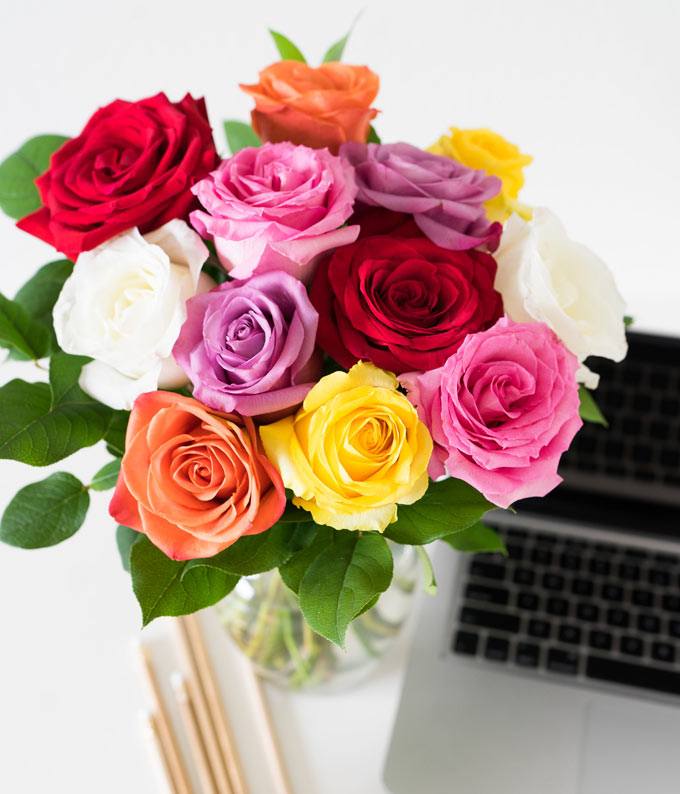 Color You Love
A good starting point is to purchase flowers for the color that you love. For example, you may want to make a statement on your dining room table, so you purchase flowers with bright red or yellow colors. The One Dozen Rainbow Roses, for example, is a fantastic way to do this. You get lots of colors and a sudden impact of beauty in that space.
On the other hand, perhaps you have a den where you enjoy quiet reading and more calming space. In this space, you can add flowers based on how the color makes you feel. For example, the California Dreamin' Bouquet is the perfect choice for a more subtle but beautiful way of adding beauty to the space, thanks to its soft peach and light green colors. Those beautiful lilies stand out, too, adding a bit of elegance to this piece.
Buy the Flowers You Love
When you buy yourself flowers, it is always a good idea to invest in a bouquet filled with your very favorite types of flowers. The good news is you can do that with just about any type of flower that you love when you purchase from From You Flowers.
Let's say you simply love the look of sunflowers with their bright yellow color. They remind you of summertime, sweet tea, and time spent in the sun. On a cold or rainy day, that can be the perfect centerpiece in your home. The Flower Fields Mason Jar can add that unique, passionate color and feel to your home if you love sunflowers.
If you love springtime a bit more and the fresh scent of tulips, then you may want to choose flowers like the Rainbow Tulip Bouquet. It's a vase full of beautiful, fresh springtime tulips that is sure to add a lot of fantastic feel to your life. You can easily fall in love with the uplifting vibe that these flowers offer.

Choose Flowers for the Way You Feel
One of the most important things with self care is to allow yourself to express the way you are truly feeling. Instead of focusing on just making the space look pretty, you want to use flowers as an extension of the way you feel, your emotions, your mental health, and your passions at the moment. Here are some recommendations based on what you may be experiencing now.
Soft and sensual
For those days when you just want to feel the softness and beauty of life around you, check out the Write My Own Name in the Sand bouquet. It offers some exceptional flowers, including beautiful roses. The soft pink, white, and yellows are welcoming, warming, and simply pretty. Buy yourself flowers that make you feel beautiful.
Full of spunk and spitfire
For those days when you feel a combination of being spicy and energetic, you need flowers that surround you with the same types of passions. Check out the Dazzling Tulip & Iris Bouquet. The red and purple mixture of flowers is sure to feel empowering when you get to see that each morning before starting your day. When you need flowers that are just as passionate as you, you can easily appreciate this choice.
Happy and full of life
When life is challenging, but you need to keep reminding yourself of all of the good that you have in it, consider a bouquet of flowers that helps you to be happy and smile. For example, the European Garden Bouquet is an excellent option for that spur of the moment smile that you can need. It includes yellow lilies, bright orange roses, and bold sunflowers.
Peace
There are times in your life when you just want to feel at peace. Calmness and a sense of beauty are things you want to feel in the flowers around you. There may not be a better way to do that than with One Dozen White Roses. It is a simple bouquet that is elegant and incredibly charming.
Sorrow or Grief
Don't try to hide from the pain you feel. Let the flowers you put around you remind you that it's okay to feel overwhelmed and that life can still be beautiful when you do. Order the One Dozen Blue Roses or the One Dozen Radiant Purple Roses to help you with this type of expression.
Full of life
Bring a smile to your face every time you see the One Dozen Wild Rainbow Roses. When you want flowers that bring energy and create a whole new vibe in your life, you need these rainbow-colored roses. They are the perfect conversation starter, too!
Sunshine and Relaxation
There are times when you want to feel grounded, with the sun on you throughout the day and a sense of belonging. Flowers can help you to feel that way if you choose those that represent the way you feel right now. Check out the Daffodil Sunshine Bulb Garden. This is a long-lasting flower bouquet that can continue to support your love of nature and beauty while inspiring you to relax and unwind. Even better, when you buy yourself flowers like this, they stick around for months as long as you take care of them. This is an exceptional choice for long-lasting beauty.

How to Get Started Buying Yourself Flowers
As Miley shared, "I can love me better…" You can do the same for yourself. Take the time right now to find flowers you simply love, that inspire you, that help you express yourself, or that are just so beautiful you want them in your life. It's a form of self care that you cannot pass up.
Check out all of the options available to you at From You Flowers. Buy any flower that is right for you or even a few of them to place throughout your home, so you always feel the beauty of nature in your life. It's easier to do than you realize!