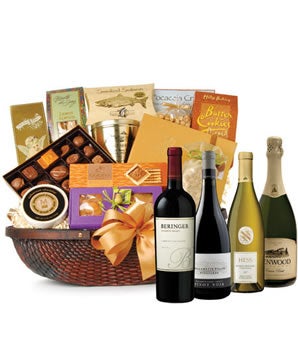 OUT OF STOCK
Item #A-62537P
Item Description
We filled this gift basket to the brim with an unparalleled selection of four bottles of our favorite wines and gourmet delights, then tied it up with a big, festive bow! The words gourmet, grand and glorious do not even begin to describe the gift that's sure to impress.
Includes:
• Murphy-Goode Cabernet Sauvignon
• Cambria Katherine's Vineyards Chardonnay
• Matanzas Creek Merlot
• Schramsberg Mirabelle Sparkling Brut
• Godiva chocolate biscuits
• Godiva milk chocolates
• Collector's tin pretzels
• Butter cookies
• Focaccia crisps
• Caramel popcorn
• Snack mix
• Chocolate orange cookies
• Peppermint popcorn
• Ghirardelli Masterpiece chocolates
• Vanilla crèmes
• Sonoma creamy jack cheese
Basket dimensions: 21.5" x 15" x 16"
THIS ITEM IS CURRENTLY OUT OF STOCK.

Feel free to shop From You Flowers Best Sellers: