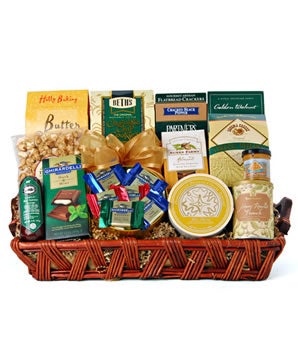 OUT OF STOCK
Item #A-75675P
Item Description
An extravaganza of gourmet delicacies for that special someone on your gift list. Bursting
with savory and sweet goodies - Cheese Sticks, chocolate chip and chocolate fudge shortbread
cookies, gourmet salami and jack cheese, roasted almonds and peanuts, black pepper
crackers, caramel popcorn, and more.
Includes:
-Napa Valley Mustard
-Chocolate Orange Cookies
-Chocolate Chip Cookies
-Chocolate Fudge Shortbread Cookies
-Cheese Sticks
-Creamy Jack Cheese
-Salami
-Caramel Popcorn
-Roasted Almonds
-Caramel Popcorn
-Black Pepper Crackers
-Honey Roasted Peanuts
Basket dimensions: 20" x 13" x 5"
Due to the popularity of this product, we reserve the right to substitute items of equal or greater quality.
THIS ITEM IS CURRENTLY OUT OF STOCK.

Feel free to shop From You Flowers Best Sellers: